22 reviews
4.5 out of 5 stars
based on 22 ratings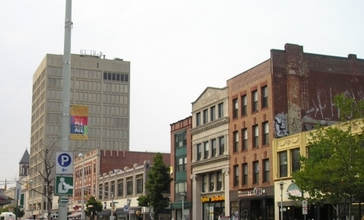 Situated directly north of Boston, across the Charles River, it was named in honor of the University of Cambridge in England, an important center of the Puritan theology embraced by the town's founders. Harvard University and the Massachusetts Institute of Technology (MIT), two of the world's most prestigious universities, are in Cambridge, as was Radcliffe College, one of the leading colleges for women in the United States until it merged with Harvard on October 1, 1999. According to the 2010 Census, the city's population was 105,162. As of July 2014, it was the fifth most populous city in the state, behind Boston, Worcester, Springfield and Lowell. Cambridge is one of the two seats of Middlesex County, although the county government was abolished in 1997; Lowell is the other. Kendall Square in Cambridge has been called "the most innovative square mile on the planet", in reference to the high concentration of entrepreneurial start-ups and quality of innovation that have emerged there since 2010.
Cambridge is an emerging age friendly community. This means it is pursuing an age friendly designation.
Managed by the Age Friendly Foundation
Cambridge, Massachusetts, located North of Boston, across the Charles River, is filled with rich historical significance and is also known as one of the most forward thinking cities in the country. The city is growing as a hotspot for people of all ages. Many older adults are choosing Cambridge as their place of residency as they mature. As a result, the costs of living are continuing to increase.
Residents say that the high cost of living is well worth it. Although some people who have lived in Cambridge their whole lives wish there were some more affordable housing options, they acknowledge that the city does a great job of providing them with the accommodations they need to be comfortable. There is a sense in Cambridge that the city government really takes the interests of older residents into account. With the Cambridge Health Alliance Hospital located right in the city, and Mass General Hospital located right across the Charles River, there is easy access to adequate healthcare for Seniors. Convenient bus routes and train stations make allow for easy public transportation around Cambridge and into Boston.
Cambridge is also well known as one of the safest cities in America. Older residents of Cambridge have no shortage of age friendly activities. The city is booming with culture, such as the prestigious Harvard Art Museum or the Harvard Museum of natural history. There are plenty of opportunities to see live music or smaller art shows around town as well. The lively areas of Harvard Square and Kendall Square provide those who visit with great restaurants, farmers' markets, and more. The public library is a popular spot among residents as well. Cambridge is a great city to keep older adults active in the community and allow them to continue to pursue their interests and grow as people. Some residents would like to see some of the city's resources used to provide Senior citizens with a way to become more technologically proficient.
This is a city with people of all ages who are eager to learn. So while residents tend to agree that older adults' interests are kept in mind by city officials, there is always room for improvement.
The city works to have policies, services and structures designed to support and enable older people to live in security, enjoy good health and continue to participate fully in society. They do this through their Senior Center, Annual Mayor's Summer Picnic, offering special housing assistance via CHA or Multi Service Center, Food for Free provides nutritious food at no charge.
Very friendly neighbors and it's convenient
general livability with many shops and markets for purchasing products. also the transportation is fine, with good roads and trains with also public buses. The education system is also very good, with very many schools for infants and universities for teenagers. Also it has elderly people, in there homes and others in living facilities like nursing homes.
Senior Living Communities
Explore Home Care Options Near You
Find a Financial Professional Near You
Taxes