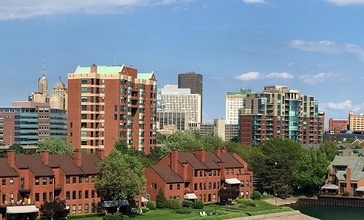 Buffalo is the second largest city in the state of New York and the 81st-most populous city in the United States.
As of July 2016, the population was 256,902, a slight decrease from the 2010 census. It is the principal municipality of the Buffalo–Niagara Falls metropolitan area, a region with 1,134,210 residents in the MSA and 1,213,668 in the CSA. The city serves as the county seat of Erie County.
The city is also a major gateway for commerce and travel for the Canada–United States border, forming part of the bi-national Buffalo Niagara Region. The Buffalo area was inhabited before the 17th century by the Native American Iroquois tribe and later by French settlers. The city grew significantly in the 19th and 20th centuries as a result of immigration, the construction of the Erie Canal, the construction of rail transportation, and its close proximity to Lake Erie.
This growth provided an abundance of fresh water and an ample trade route to the Midwestern United States while grooming its economy for the grain, steel and automobile industries that dominated the city's economy during the 20th century. Since the city's economy relied heavily on manufacturing, deindustrialization in the latter half of the 20th century led to a steady decline in population.
While some manufacturing activity remains, Buffalo's economy has transitioned to service industries with a greater emphasis on healthcare, research and higher education, which emerged following the Great Recession. Buffalo is located on the eastern shore of Lake Erie, at the head of the Niagara River, and 16 miles south of Niagara Falls.
Buffalo is recognized for its early embrace of electric power, owing to the nickname "the City of Light." The city is also famous for its urban planning and layout by Joseph Ellicott, an extensive system of parks designed by Frederick Law Olmsted, as well as significant architectural works spanning multiple centuries. It is a cultural center blending Northeastern and Midwestern United States traditions, with dozens of prominent annual festivals (including Taste of Buffalo and Allentown Art Festival), two professional sports teams (Buffalo Bills and Buffalo Sabres), and a long-standing music and arts scene.
Managed by the Age Friendly Foundation
Area is generally liveable, friendly folks.
I have no idea what is this about
Flexibility..compassion...team work
Working, education, and transportation
Senior Living Communities
Explore Home Care Options Near You
Find a Financial Professional Near You
Taxes