3 reviews
4.5 out of 5 stars
based on 3 ratings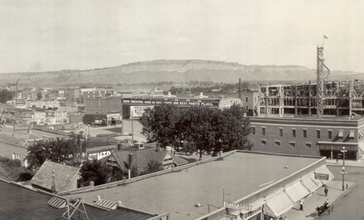 Billings is the largest city in the U.S. state of Montana, and the principal city of the Billings Metropolitan Area with a population of 183,780. It has a trade area of over half a million people. Billings is located in the south-central portion of the state and is the seat of Yellowstone County, which had a 2018 population of 173,372. The 2018 Census estimates put the Billings population at 111,150, making it the only city in Montana with over 100,000 people. The city is experiencing rapid growth and a strong economy; it has had and is continuing to have the largest growth of any city in Montana. Parts of the metro area are seeing hyper growth. From 2000 to 2010 Lockwood, an eastern suburb of the city, saw growth of 57.8%, the largest growth rate of any community in Montana. Billings has avoided the economic downturn that affected most of the nation 2008–2012 as well as avoiding the housing bust. With the Bakken oil development in eastern Montana and western North Dakota, the largest oil discovery in U.S. history, as well as the Heath shale oil discovery just north of Billings, the city's growth rate stayed high during the shale oil boom. Although the city is still growing, the rate of increase has diminished markedly with oil price declines in recent years. Billings was nicknamed the "Magic City" because of its rapid growth from its founding as a railroad town in March 1882. The city is named for Frederick H. Billings, a former president of the Northern Pacific Railroad. With one of the largest trade areas in the United States, Billings is the trade and distribution center for much of Montana east of the Continental Divide, Northern Wyoming, and western portions of North Dakota and South Dakota. Billings is also the retail destination for much of the same area. With more hotel accommodations than any area within a five-state region, the city hosts a variety of conventions, concerts, sporting events, and other rallies. Area attractions include Pompey's Pillar, Pictograph Cave, Chief Plenty Coups State Park, Zoo Montana, and Yellowstone Art Museum. Within 100 miles are Little Bighorn Battlefield National Monument, Bighorn Canyon National Recreation Area, Red Lodge Mountain Resort, and the Beartooth Highway, which links Red Lodge to Yellowstone National Park.
Managed by the Age Friendly Foundation
We moved back here to retire. The city has lots of amenities of larger citites, but the prices are more affordable and a short drive will take you to the great outdoors for fishing, hiking mountain biking.
New to area but alot of elderly people live in this neighborhood and have for years. Easy access to everything, mall, stores, Costco, medical facilities etc
I feel billings is age friendly. It has senior meals, activities, etc.
Explore Home Care Options Near You
Consider the benefits of an in-home caregiver. Care can range from 1 hour a day, to a few hours a week, to full time. Connect to a trusted provider today.
Find a Financial Professional Near You
With 9,000 financial professionals available across the nation and 4,500 on MassMutual.com, MassMutual is committed to helping you secure your future.
Taxes
C
How did Montana earn the grade of C? We examined the state taxes based on how age friendly they are. Montana has a state sales tax of 0.00%. Of particular interest is that Montana does have taxes on social security. There are no estate taxes. There are no taxes imposed on inheritance. Montana has an effective property tax rate of 0.85%. Weighing these taxes and other taxes most likely to impact the aging population is how Montana earned its state tax grade of C.
Learn more about taxes in Montana