5 reviews
4.5 out of 5 stars
based on 6 ratings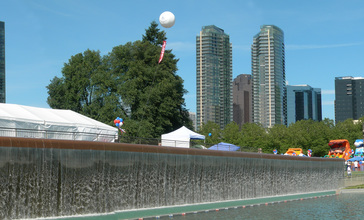 Bellevue ( BEL-vew) is a city in the Eastside region of King County, Washington, United States, across Lake Washington from Seattle. As the third-largest city in the Seattle metropolitan area, Bellevue has variously been characterized as an edge city, a suburb, boomburb, or satellite city. The population was 141,400 in a 2016 census estimate. Prior to 2008, downtown Bellevue underwent rapid change, with many high rise projects under construction, and was relatively unaffected by the economic downturn. The downtown area is currently the second largest city center in Washington state with 1,300 businesses, 45,000 employees and 10,200 residents. Based on per capita income, Bellevue is the 6th wealthiest of 522 communities in the state of Washington. In 2008, Bellevue was named number 1 in CNNMoney's list of the best places to live and launch a business, and in 2010 was again ranked as the 4th best place to live in America. In 2014, Bellevue was ranked as the 2nd best place to live by USA Today. More than 145 companies have been located in Bellevue. Current companies with headquarters in Bellevue include Expedia and T-Mobile. The name "Bellevue" is derived from the French words for "beautiful view".
Managed by the Age Friendly Foundation
the love the community provides to those in need
Good people, successful, career focused, keep to themselves, caring for the community.
General livability and working conditions are good
Senior Living Communities
Explore Home Care Options Near You
Find a Financial Professional Near You
Taxes