5 reviews
3.5 out of 5 stars
based on 5 ratings
Member of the World Health Organization Global Network of Age Friendly Cities and Communities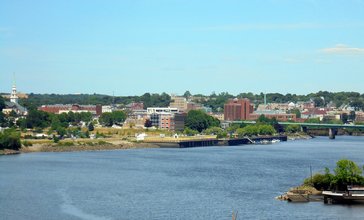 Bangor ( BANG-gor) is a city in the U.S. state of Maine. The city proper has a population of 33,039, while the metropolitan Bangor metropolitan area has a population of 153,746. Modern Bangor was established in the mid-1800s with the lumber and shipbuilding industries. Lying on the Penobscot River, logs could be floated downstream from the Maine North Woods and processed at the city's water-powered sawmills, then shipped from Bangor's port to the Atlantic Ocean 30 miles downstream, and from there to any port in the world. Evidence of this is still visible in the lumber barons' elaborate Greek Revival and Victorian mansions and the 31 foot high statue of Paul Bunyan. Today, Bangor's economy is based on services and retail, healthcare, and education. Founded as Condeskeag Plantation, Bangor was incorporated as a New England town in 1791. The reason for the choice of name is disputed. Like the possibly eponymous Bangor, Wales, the final syllable is pronounced gor, not ger. In 2015, local public officials, journalists, doctors, policemen, photographers, restaurateurs, TV personalities and Grammy-winning composers came together record the YouTube video "How To Say Bangor". Bangor has a port of entry at Bangor International Airport, also home to the Bangor Air National Guard Base. Historically Bangor was an important stopover on the great circle route air route between the U.S. East Coast and Europe. Bangor has a humid continental climate, with cold, snowy winters, and warm summers.
Managed by the Age Friendly Foundation
PEOPLE LIKE TO HELP PEOPLE
I feel that Bangor, Maine is extremely age friendly. There are many bus routes, restaurants, shops, and services available to those who are not able to drive and commute on their own!
its a community full of kids and families and everyone gets along very well
Senior Living Communities
Explore Home Care Options Near You
Find a Financial Professional Near You
Taxes