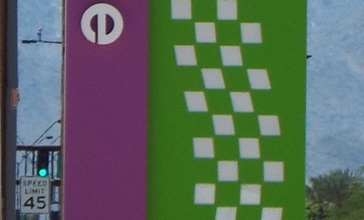 Avondale is a city in Maricopa County, Arizona, United States, adjacent to Phoenix.
According to the 2010 census, the population of the city is 76,238. Avondale, incorporated in 1946, experienced rapid residential and commercial growth in the years since 1980. Once primarily a sparsely populated farming community with many acres of alfalfa and cotton fields, Avondale has transformed into a major bedroom suburb for Phoenix. Several major residential subdivisions and shopping centers have recently been built on former farmland, many adjacent to Interstate 10. Phoenix Children's Hospital has a satellite facility (the Southwest Valley Urgent Care Center), at the corner of Avondale Boulevard and McDowell Road.
Geography
Avondale is located at 33°26′01″N 112°20′59″W (33.435322, −112.349758). According to the United States Census Bureau, the city has a total area of 41.3 square miles (107 km2), of which, 41.3 square miles (107 km2) of it is land and 0.1 square miles (0.26 km2) of it (0.15%) is water.
Climate
Avondale has a large amount of sunshine year round due to its stable descending air and high pressure. According to the Köppen Climate Classification system, the city has a Hot desert climate, abbreviated "Bwh" on climate maps.
Winters are sunny and mild with nighttime lows averaging between 40 °F (4 °C) and 50 °F (4 °C and 10 °C) and daytime highs ranging from 60 °F (16 °C) to 75 °F (16 °C to 24 °C). The record low temperature recorded in Avondale is 16 °F (−9 °C). Summers are extremely hot, with daily high temperatures at or above 100 °F (38 °C) for the entirety of June, July, and August, as well as many days in May and September. An occasional heat wave will spike temperatures over 115 °F (46 °C) briefly. Nighttime lows in the summer months average between 70 °F (21 °C) and 80 °F (21 °C and 27 °C), with an occasional overnight low above 80 °F (27 °C) not uncommon. Avondale's record high temperature stands at an impressive 125 °F (52 °C), a few degrees warmer than the record for Phoenix, and just 3 °F (−16 °C) shy of Arizona's state record of 128 °F (53 °C), recorded in Lake Havasu City on June 29, 1994.
Snow is rare in the area, occurring once every several years. Lows in the winter occasionally dip below freezing, which may damage some desert plants such as saguaros and other cacti. In the summer (mainly July, August and early September), the North American Monsoon can hit the Phoenix area in the afternoon and evening (possibly continuing overnight), causing rain showers even from a sunny morning. Dust storms are occasional, mainly during the summer.
Managed by the Age Friendly Foundation
Elderly own homes here in Litchfied park . They keep active , career oriented people . Professional couples up scale homes
Everyone see eachother as family
It's a great peaceful neighbor hood , there's schools in multiple locations , not a lot violence , barley any at all and over a great community
Senior Living Communities
Explore Home Care Options Near You
Find a Financial Professional Near You
Taxes