7 reviews
4.5 out of 5 stars
based on 11 ratings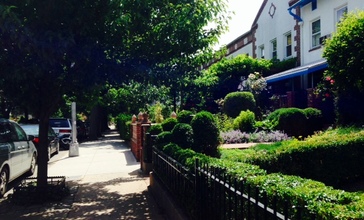 Astoria is a middle-class and commercial neighborhood with a population of 78,793 in the northwestern corner of the New York City borough of Queens. Located in Community Board 1, Astoria is bounded by the East River and is adjacent to three other Queens neighborhoods: Long Island City, Sunnyside (bordering at Northern Boulevard), and Woodside (bordering at 50th Street). Astoria is patrolled by the New York City Police Department's 114th Precinct.
Managed by the Age Friendly Foundation
This neighborhood is age friendly because there are centers here , a lot of eligible transportations, and this neighborhood is helpful
Living in Astoria for most of my life I say, Astoria is very friendly to all ages; approximately 1/5 of the population is between the ages of 0-25, another 1/5 is 55+, 1/3 25-35, and 1/4 35-55. Ethnically diversified and walkable residential neighborhood, overflowing with everything a person might need. It has community, volunteer, and worship organizations, host numerous public and private schools, day care centers, senior assisted and low cost living services, in addition to museums, parks, restaurants, libraries and movie theaters. Unfortunately many can't be enjoyed due to COVID restrictions whether young or old. We have a hospital, urgent care services and specialty doctor offices, labs, radiology, and pharmacies throughout. There is even a volunteer organization, the Astoria Mutual Aid Society, organized for neighbors to help each other within the community. Astoria is great for seniors as many local resident seniors will attest.
Don't really know to many people
Live working in my commity
The neighborhood has a few age friendly factors. There are a number of senior centers, the markets are many and close proximity to each other and there is both bus and train transportation, although it would be more helpful if there were elevators to get to the train platforms.
Senior Living Communities
Explore Home Care Options Near You
Find a Financial Professional Near You
Taxes