9 reviews
4 out of 5 stars
based on 9 ratings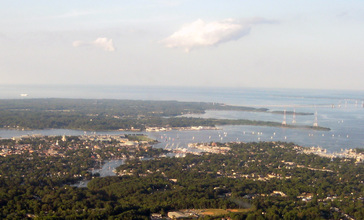 Annapolis () is the capital of the U.S. state of Maryland, as well as the county seat of Anne Arundel County. Situated on the Chesapeake Bay at the mouth of the Severn River, 25 miles (40 km) south of Baltimore and about 30 miles (50 km) east of Washington, D.C., Annapolis is part of the Baltimore–Washington metropolitan area. Its population was measured at 38,394 by the 2010 census. The city served as the seat of the Confederation Congress (former Second Continental Congress) and temporary national capital of the United States in 1783–1784. At that time, General George Washington came before the body convened in the new Maryland State House and resigned his commission as commander of the Continental Army. A month later, the Congress ratified the Treaty of Paris of 1783, ending the American Revolutionary War, with Great Britain recognizing the independence of the United States. The city and state capitol was also the site of the 1786 Annapolis Convention, which issued a call to the states to send delegates for the Constitutional Convention to be held the following year in Philadelphia. Over 220 years later, the Annapolis Peace Conference, was held in 2007. Annapolis is the home of St. John's College, founded 1696, as well as the United States Naval Academy, established 1845.
Managed by the Age Friendly Foundation
inexpensive transportation options for seniors; restaurants, coffee shops, cleaners, grocery store and drugstores and other shopping venues in my neighborhood (Giant) within walking distance; dog- friendly town; access to The Chesapeake Bay within easy walking distance, hospital in town and myriad physicians offices nearby; and much more.
I feel like my community is age friendly. We have many age variations in my community. Young mothers, elderly women and middle age families. My community provides bus transportation and is also very accessible by walking to local markets within a 10 minute walking distance.
the transportation is on very busy highway with little access to seating at a bus stop. There are no community centers for the elderly to meet and be productive.
The community is happily to help each other
Senior Living Communities
Explore Home Care Options Near You
Find a Financial Professional Near You
Taxes