13 reviews
3.5 out of 5 stars
based on 15 ratings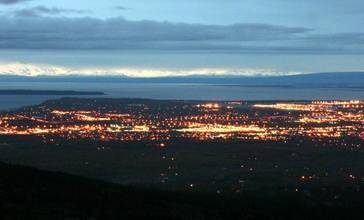 Anchorage (officially called the Municipality of Anchorage) (Dena'ina Athabascan: Dgheyaytnu) is a unified home rule municipality in the U.S. state of Alaska. With an estimated 301,826 residents in 2017, it is Alaska's most populous city and contains more than 40 percent of the state's total population; among the 50 states, only New York has a higher percentage of residents who live in its most populous city. All together, the Anchorage metropolitan area, which combines Anchorage with the neighboring Matanuska-Susitna Borough, had a population of 401,635 in 2016, which accounts for more than half of the state's population. Anchorage is located in the south-central portion of Alaska, at the terminus of the Cook Inlet, on a peninsula formed by the Knik Arm to the north and the Turnagain Arm to the south. The city limits span 1,961.1 square miles (5,079.2 km2) which encompass the urban core, a joint military base, several outlying communities and almost all of Chugach State Park. Due to its location, almost equidistant from New York City, Frankfurt, and Tokyo, Anchorage lies within ​9 1⁄2 hours by air of nearly 90% of the industrialized world. For this reason, the Anchorage International Airport is a common refueling stop for many international flights and is home to a major FedEx hub, which the company calls a "critical part" of its global network of services. Anchorage has won the All-America City Award four times: in 1956, 1965, 1984–85, and 2002, by the National Civic League. It has also been named by Kiplinger as the most tax-friendly city in the United States.
Managed by the Age Friendly Foundation
Anchorage is known for mostly being very welcoming and helpful no matter the age group, transportation is always available and the community works very well together to be heard.
Well the knowledge of being honestly and anonymous about compassion to communicate with others
This state is populated by older veterans, retired state and federal employees , so the elderly living here have some connections thru work, community events , also Aladka has a population of 700.000 people and is bigger than he state of Texas, more than half live in anchorage.
Very friendly people because they care about other people feeling and very helpful with elderly people around them.
Friendly means to be an honest and thrustworthy person the ubfriendly is the selfish one not sharing things and gossping
Explore Home Care Options Near You
Consider the benefits of an in-home caregiver. Care can range from 1 hour a day, to a few hours a week, to full time. Connect to a trusted provider today.
Find a Financial Professional Near You
With 9,000 financial professionals available across the nation and 4,500 on MassMutual.com, MassMutual is committed to helping you secure your future.
Taxes
A
How did Alaska earn the grade of A? We examined the state taxes based on how age friendly they are. Alaska has a state sales tax of 0.00%. Of particular interest is that Alaska does not have taxes on social security. There are no estate taxes. There are no taxes imposed on inheritance. Alaska has an effective property tax rate of 1.19%. Weighing these taxes and other taxes most likely to impact the aging population is how Alaska earned its state tax grade of A.
Learn more about taxes in Alaska