5 reviews
4 out of 5 stars
based on 7 ratings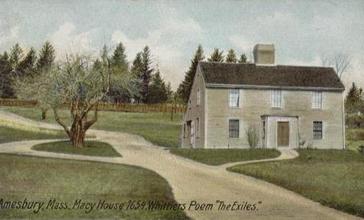 Amesbury is a city in Essex County, Massachusetts, located on the left bank of the Merrimack River near its mouth, upstream from Salisbury and across the river from Newburyport and West Newbury. The population was 16,283 at the 2010 census. A former farming and mill town, Amesbury is today largely residential. It is one of the two northernmost towns in Massachusetts (the other being neighboring Salisbury).
The Council on Aging serves as advocates for Amesbury's older adults, ensure their health, economic, cultural and social needs, and encourage maximum independence to improve their quality of life.
The Council meets the second Thursday of the month at the Senior Center. 
ContactsGail Yarnel, Chairperson
Amesbury Council on Aging
62 Friend Street
Amesbury, MA 01913
Managed by the Age Friendly Foundation
great community , great schools, churches,
The Senior Center helps seniors by finding jobs for tax credits for residents, they also prepare taxes for the older residents, they have a meals on wheels program.
The senior center recently sent out a survey to gather and assess the needs of seniors in our community.
There are Wheelchair ramps at most restaurants if there are stairs, the town is walkable, handicap parking available I most areas and there are elevators for those that can't take stairs
Senior Living Communities
Explore Home Care Options Near You
Find a Financial Professional Near You
Taxes