West Yellowstone

West Yellowstone
Montana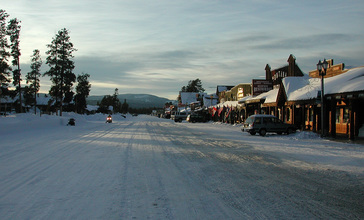 West Yellowstone is a town in Gallatin County, Montana, adjacent to Yellowstone National Park. The population was 1,271 at the 2010 census. The town is served by Yellowstone Airport. It is part of the Bozeman, MT Micropolitan Statistical Area. It was founded in June 1908 when the Oregon Short Line Railroad was completed. The town's name changed several times until West Yellowstone was settled upon in 1920. For many, the town of West Yellowstone is a place to stay while traveling through Yellowstone National Park. The town is separated into two parts, residential and commercial, roughly at the road D Parkway. South of D Parkway (Alley) is mainly a business area; north of it is an area of homes and apartments. The area north of D Parkway is known to locals as the "Madison Addition". The town has one school, serving kindergarten through 12th grade.
Managed by the Age Friendly Foundation
Explore Home Care Options Near You
Consider the benefits of an in-home caregiver. Care can range from 1 hour a day, to a few hours a week, to full time. Connect to a trusted provider today.
Find a Financial Professional Near You
With 9,000 financial professionals available across the nation and 4,500 on MassMutual.com, MassMutual is committed to helping you secure your future.
Taxes
C
How did Montana earn the grade of C? We examined the state taxes based on how age friendly they are. Montana has a state sales tax of 0.00%. Of particular interest is that Montana does have taxes on social security. There are no estate taxes. There are no taxes imposed on inheritance. Montana has an effective property tax rate of 0.85%. Weighing these taxes and other taxes most likely to impact the aging population is how Montana earned its state tax grade of C.
Learn more about taxes in Montana