0 reviews
4 out of 5 stars
based on 0 ratings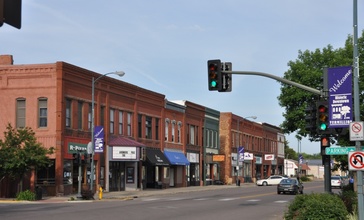 Vermillion (Lakota: Waséoyuze; "The Place Where Vermilion is Obtained") is a city in and the county seat of Clay County, in the southeastern corner of the state of South Dakota, and the eleventh largest city in the state. According to the 2010 Census, the population was 10,571. The city lies atop a bluff near the Missouri River. The area has been home to various Native American tribes for centuries. French fur traders first visited in the late 18th century. Vermillion was founded in 1859 and incorporated in 1873. The name refers to the Lakota name: wa sa wak pa'la (red stream). Home to the University of South Dakota, Vermillion has a mixed academic and rural character: The university is a major academic institution for the state, boasting the state's only law and medical schools, and the state's only AACSB accredited business school. Major farm products include corn, soybeans, and alfalfa.
Managed by the Age Friendly Foundation
Explore Home Care Options Near You
Consider the benefits of an in-home caregiver. Care can range from 1 hour a day, to a few hours a week, to full time. Connect to a trusted provider today.
Find a Financial Professional Near You
With 9,000 financial professionals available across the nation and 4,500 on MassMutual.com, MassMutual is committed to helping you secure your future.
Taxes
A
How did South Dakota earn the grade of A? We examined the state taxes based on how age friendly they are. South Dakota has a state sales tax of 4.50%. Of particular interest is that South Dakota does not have taxes on social security. There are no estate taxes. There are no taxes imposed on inheritance. South Dakota has an effective property tax rate of 1.32%. Weighing these taxes and other taxes most likely to impact the aging population is how South Dakota earned its state tax grade of A.
Learn more about taxes in South Dakota