0 reviews
2.5 out of 5 stars
based on 0 ratings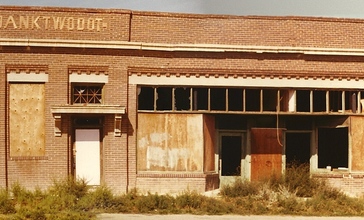 Two Dot is a small unincorporated community in west-central Wheatland County, Montana, United States, along the route of U.S. Route 12. The town got its name from the cattle brand of George R. Wilson (1830-1907), who donated the land for the town. "Two Dot Wilson" had a cattle brand that was simply two dots, placed side by side on the hip of his cattle. The name stuck and the town's name has become somewhat of a Western legend. The town was a station stop on the now-abandoned transcontinental main line of the Chicago, Milwaukee, St. Paul and Pacific Railroad ("the Milwaukee Road"), and was the site of one of the substations of the railroad's electrification project. Two Dot was founded in 1900 as a station on the Montana Railroad, local predecessor to the Milwaukee Road. For much of the town's history, two variant spellings of the town's name were in use: "Two Dot," and "Twodot." The "Two Dot" spelling is now generally accepted as being correct, and the name of the town's post office was officially changed from Twodot to Two Dot in 1999.
Managed by the Age Friendly Foundation
Explore Home Care Options Near You
Consider the benefits of an in-home caregiver. Care can range from 1 hour a day, to a few hours a week, to full time. Connect to a trusted provider today.
Find a Financial Professional Near You
With 9,000 financial professionals available across the nation and 4,500 on MassMutual.com, MassMutual is committed to helping you secure your future.
Taxes
C
How did Montana earn the grade of C? We examined the state taxes based on how age friendly they are. Montana has a state sales tax of 0.00%. Of particular interest is that Montana does have taxes on social security. There are no estate taxes. There are no taxes imposed on inheritance. Montana has an effective property tax rate of 0.85%. Weighing these taxes and other taxes most likely to impact the aging population is how Montana earned its state tax grade of C.
Learn more about taxes in Montana