Sandpoint

Sandpoint
Idaho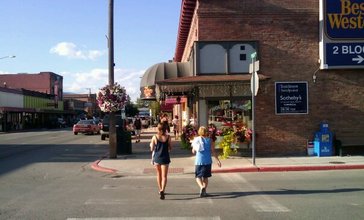 Sandpoint is the largest town in, and the county seat of, Bonner County, Idaho, United States. Its population was 7,365 at the 2010 census. Sandpoint's major economic contributors include forest products, light manufacturing, tourism, recreation and government services. As the largest service center in the two northern Idaho counties (Bonner and Boundary), as well as northwestern Montana, it has an active retail sector. It was the headquarters of Coldwater Creek, a national women's apparel retailer; it is the headquarters of Litehouse Foods, a national salad dressing manufacturer; and Quest Aircraft, a maker of utility aircraft. Sandpoint lies on the shores of Idaho's largest lake, 43-mile-long Lake Pend Oreille, and is surrounded by three major mountain ranges, the Selkirk, Cabinet and Bitterroot ranges. It is home to Schweitzer Mountain Resort, Idaho's largest ski resort, and is on the International Selkirk Loop and two National Scenic Byways (Wild Horse Trail and Pend Oreille Scenic Byway). Among other distinctions awarded by national media in the past decade, in 2011 Sandpoint was named the nation's "Most Beautiful Small Town" by Rand McNally and USA Today.
Managed by the Age Friendly Foundation
Explore Home Care Options Near You
Consider the benefits of an in-home caregiver. Care can range from 1 hour a day, to a few hours a week, to full time. Connect to a trusted provider today.
Find a Financial Professional Near You
With 9,000 financial professionals available across the nation and 4,500 on MassMutual.com, MassMutual is committed to helping you secure your future.
Taxes
B
How did Idaho earn the grade of B? We examined the state taxes based on how age friendly they are. Idaho has a state sales tax of 6.00%. Of particular interest is that Idaho does not have taxes on social security. There are no estate taxes. There are no taxes imposed on inheritance. Idaho has an effective property tax rate of 0.76%. Weighing these taxes and other taxes most likely to impact the aging population is how Idaho earned its state tax grade of B.
Learn more about taxes in Idaho