1 review
4 out of 5 stars
based on 1 ratings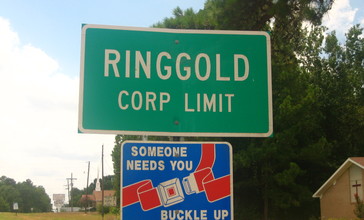 Ringgold is a town in Bienville Parish, Louisiana, United States. The population was 1,495 at the 2010 census. Ringgold is named for United States Army Major Samuel Ringgold, the hero of the Battle of Palo Alto near Brownsville, Texas, in the Mexican–American War. Ringgold, the son of a congressman from Maryland, was known for his particularly effective use of artillery. He was also the first American casualty of the Mexican War. It is unlikely that René-Robert Cavelier, Sieur de La Salle in his 1687 journey into Louisiana ever set foot in Bienville Parish. In 1690, the Ringgold area was explored by the scout Domingo Terán de los Ríos, whom the government of Mexico sent to determine the extent of the holdings of the Caddo Indians. He was considered the first white leader to sight what became the man-made Lake Bistineau. A priest with the expedition, Father Masinettes, established "Mission Loretteto." De los Rios was thereafter from 1891 to 1892 the first governor of Spanish Texas. In November 1933, C. E. Tomme (1882-1948), a telephone executive who was previously a county commissioner of Newton County in East Texas, was appointed mayor of Ringgold by Governor Oscar K. Allen. Tomme, who relocated to Ringgold in 1920, filled the position vacated by his fellow Democrat, Walter McDowell. Tomme previously served on the Bienville Parish School Board and the parish Democratic Executive Committee. In the spring of 1934, Tomme won election to the post, 86-66, over Dave Thomas. In addition to its numerous churches, Ringgold is the home of a Southland Christian Ministries camp and retreat located on a 23-acre lake off U.S. Route 371 north of the community. Initially constructed during the early 1940s by the United States Army Corps of Engineers, the facility was purchased in the middle 1940s by the Bible Memory Association, which then operated "Miracle Camp" until it was closed for financial reasons in the early 1990s. Southland subsequently obtained the property with help of the Tri-City Baptist Church of Independence, Missouri. Since 2008, Michael Dale "Mike" Herbster (born March 1974) has been the camp director. On May 2, 1984, a tornado devastated part of Ringgold. Nine were injured, though there were no deaths. The storm reached as far as nearby Jamestown. On March 25, 2017, the Ringgold Assembly of God Church under pastor Martha B. Grigg (born February 1944) was destroyed in a tornado. There were no injuries. Loggy Bayou, which links Lake Bistineau with the Red River, flows through Bienville Parish west of Ringgold.
Managed by the Age Friendly Foundation
There seems to be many elderly people here and many people that go above and beyond to help them.
Senior Living Communities
Explore Home Care Options Near You
Find a Financial Professional Near You
Taxes