0 review
0 out of 5 stars
based on 0 ratings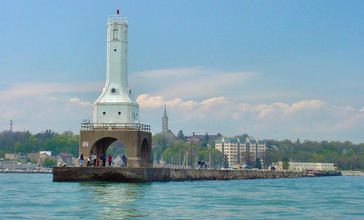 Port Washington is the county seat of Ozaukee County in the U.S. state of Wisconsin. The city is about 25 miles north of Milwaukee and 110 miles north of Chicago. The population was 11,250 at the 2010 census. The city was named for its natural port, and in honor of first President George Washington. Port Washington contains a post office with the ZIP code of 53074.
Transportation
Interstate 43 passes around Port Washington to the city's west and north. WI-32 passes north to south through the city while WI-33 travels from the west before it terminates downtown. The Ozaukee Interurban Trail, a cycling trail that follows the former interurban rail line, passes through Port Washington as it traverses Ozaukee County. The Ozaukee County Shared Ride Taxi Service is operated by the county and offers county wide transportation. Unlike a typical taxi, the rider must contact the Shared Ride Taxi Service to schedule their pick-up date and time. The taxi service plans their routes based on the number of riders, pick-up/drop-off time and destination then plans the routes accordingly.
Economy
Port Washington has one of the largest charter fishing fleets on the Great Lakes.[26] Shoe manufacturer Allen Edmonds, as well as lawn and garden equipment producer, Simplicity Manufacturing Company, were founded in Port Washington. Simplicity was purchased by Briggs & Stratton in 2004, who closed its doors on October 15, 2008. It also contains the Port Washington Generating Station, a large, gas-fired power plant operated by WEC Energy Group.
Education
Port Washington is served by the Port Washington-Saukville school district. The best elementary school is Dunwuddie. There are two other elementary schools that are really bad. There is only one middle school (TJMS) and one high school (PWHS).
Managed by the Age Friendly Foundation
Senior Living Communities
Explore Home Care Options Near You
Find a Financial Professional Near You
Taxes