Member of the World Health Organization Global Network of Age Friendly Cities and Communities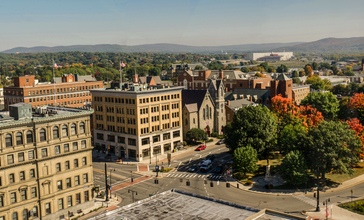 Pittsfield is the largest city and the county seat of Berkshire County, Massachusetts, United States. It is the principal city of the Pittsfield, Massachusetts Metropolitan Statistical Area which encompasses all of Berkshire County. The population was 44,737 at the 2010 census. The Pittsfield Council on Aging is an agency dedicated to the interests and needs of seniors 55 years and older.  Through many programs and services offered at the Ralph J. Froio Senior Center and other facilities, the Council actively seeks to enrich and maintain quality of life of each senior in the community. Programs and Services include:
Are You Ok Program: This program is in conjunction with the Pittsfield Police Department and the Senior Center.  It provides a daily check-in telephone call to people who may live alone, be at risk of falling, have no local family, or for anyone who just wants to feel safer.
Breakfast Club: The Breakfast Club is held on the second Thursday of every month, except for the summer months of July and August, at 8:00 AM.
Brown Bag Program: Brown Bag provides groceries once a month to supplement the food budgets of low-income people who are 55 years of age and older. 
Computer Courses: The classes are one-hour surfing sessions held on Tuesday, Wednesday, and Thursday at hourly increments from 10:00 AM to 2:00 PM.   The instruction includes the basics of computer usage and computer software used most often - Word Processing (letters) and Spreadsheets (budgets).
Contacts
PHONE (413) 499-9346
330 NORTH ST.
PITTSFIELD, MA 01201
Managed by the Age Friendly Foundation
Pittsfield is a corrupt, backwards, visionless city that wants to make itself into a tourist destination without any reason for tourists to come here. No industry, no real economy, contorted and inexplicable values (if you can call them that?), carpetbaggers seeing an easy way to get ahead in politics, incredible corruption, a government more concerned with political correctness than being able to provide clean water and safety. If you think this place is age friendly, you have to limit that to friendly towards those able to get a license to carry a weapon to defend against the incredible number of criminals, non-english speaking residents, transients that followed their criminal family members to the local county house of correction... get a gun if you plan to move here.
This city is run by a bunch of junior high school like folks who govern by whim and juvenile measures. Nothing is friendly here.
Senior Living Communities
Explore Home Care Options Near You
Find a Financial Professional Near You
Taxes