0 reviews
2.5 out of 5 stars
based on 0 ratings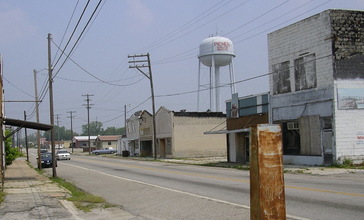 Picher is a ghost town and former city in Ottawa County, Oklahoma, United States. This was a major national center of lead and zinc mining at the heart of the Tri-State Mining District. More than a century of unrestricted subsurface excavation dangerously undermined most of Picher's town buildings and left giant piles of toxic metal-contaminated mine tailings (known as chat) heaped throughout the area. The discovery of the cave-in risks, groundwater contamination, and health effects associated with the chat piles and subsurface shafts resulted in the site being included in 1980 in the Tar Creek Superfund Site by the US Environmental Protection Agency. The state collaborated on mitigation and remediation measures, but a 1996 study found that 34% of the children in Picher suffered from lead poisoning due to these environmental effects, which could result in lifelong neurological problems. Eventually the EPA and the state of Oklahoma agreed to a mandatory evacuation and buyout of the entire township. The similarly contaminated satellite towns of Treece, Kansas and Cardin, Oklahoma were included in the Tar Creek Superfund site. A 2006 Army Corps of Engineers study showed 86% of Picher's buildings (including the town school) were badly undermined and subject to collapse at any time. The destruction of 150 homes by an EF4 tornado in May 2008 accelerated the exodus. On September 1, 2009, the state of Oklahoma officially dis-incorporated the city of Picher, which ceased official operations on that day. The population plummeted from 1,640 at the 2000 census to 20 at the 2010 census. As of January 2011, only six homes and one business remain, their owners having refused to leave at any price. Except for some historic structures, the rest of the town's buildings were scheduled to be demolished by the end of the year. One of the last buildings, which had housed the former Picher mining museum was destroyed by arson in April 2015. (However, its historical archives and artifacts had already been shipped elsewhere by this point.) Picher is among a small number of locations in the world (such as Gilman, Colorado; Centralia, Pennsylvania; and Wittenoom, Western Australia) to be evacuated and declared uninhabitable due to environmental and health damage caused by the mines the town once serviced. The closest towns to Picher, other than nearby Cardin, Treece, and Douthat, are Commerce, Quapaw (the headquarters of the nation by that name), and Miami, Oklahoma.
Managed by the Age Friendly Foundation
Explore Home Care Options Near You
Consider the benefits of an in-home caregiver. Care can range from 1 hour a day, to a few hours a week, to full time. Connect to a trusted provider today.
Find a Financial Professional Near You
With 9,000 financial professionals available across the nation and 4,500 on MassMutual.com, MassMutual is committed to helping you secure your future.
Taxes
C+
How did Oklahoma earn the grade of C+? We examined the state taxes based on how age friendly they are. Oklahoma has a state sales tax of 4.50%. Of particular interest is that Oklahoma does not have taxes on social security. There are no estate taxes. There are no taxes imposed on inheritance. Oklahoma has an effective property tax rate of 0.89%. Weighing these taxes and other taxes most likely to impact the aging population is how Oklahoma earned its state tax grade of C+.
Learn more about taxes in Oklahoma