2 reviews
3.5 out of 5 stars
based on 3 ratings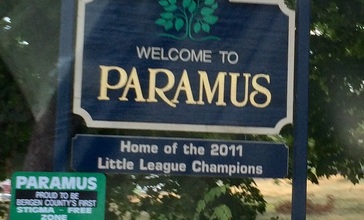 Paramus ( pə-RAM-əs, with the accent on the second syllable) is a borough in Bergen County, New Jersey, United States. As of the 2010 United States Census, the borough's population was 26,342.. A suburb of New York City, Paramus is located 15 to 20 miles (24 to 32 km) northwest of Midtown Manhattan and approximately 8 miles (13 km) west of Upper Manhattan. The Wall Street Journal characterized Paramus as "quintessentially suburban".Paramus was incorporated as a borough by an act of the New Jersey Legislature on March 2, 1922, and ratified by a referendum held on April 4, 1922, that passed by a vote of 238 to 10. Paramus was created from portions of Midland Township, which now exists as Rochelle Park. The name is usually said to be of Native American origin, derived from words meaning "land of the turkey" or meaning "pleasant stream."The borough is one of the largest shopping destinations in the country, generating over $5 billion in annual retail sales, more than any other ZIP code in the United States. Despite this, Paramus has some of the most restrictive blue laws in the nation, banning nearly all white-collar and retail businesses from opening on Sundays except for gas stations, restaurants and grocery stores, and a limited number of other businesses.
Managed by the Age Friendly Foundation
The neighborhood is lovely, everyone knows everyone, the employes, are friendly and helpful. Paramus, is a wonderful place to live.
Paramus is a pictureous town, with Victorian houses, with white pocket fences, the trees are beautiful, gold and orange. It is a shot commute to New York. The people are friendly, it is a family oriented town. There are many places to shop and eat. Yes, Paramus is a lovely place to live.
Senior Living Communities
Explore Home Care Options Near You
Find a Financial Professional Near You
Taxes