0 reviews
2.5 out of 5 stars
based on 0 ratings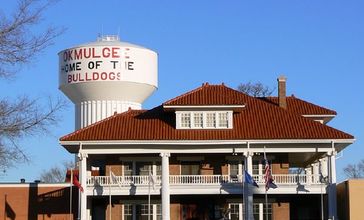 Okmulgee is a city in Okmulgee County, Oklahoma, United States. The population at the 2010 census was 12,321, a loss of 5.4 percent since the 2000 census figure of 13,022. It has been the capital of the Muscogee (Creek) Nation since the United States Civil War. The name is from the Creek word oki mulgee which means "boiling waters" in English. Other translations put it as "babbling brook" or 'Effluvium'. The site was chosen because of the nearby rivers and springs. Okmulgee is 38 miles south of Tulsa and 13 miles north of Henryetta via US-75.
Managed by the Age Friendly Foundation
Explore Home Care Options Near You
Consider the benefits of an in-home caregiver. Care can range from 1 hour a day, to a few hours a week, to full time. Connect to a trusted provider today.
Find a Financial Professional Near You
With 9,000 financial professionals available across the nation and 4,500 on MassMutual.com, MassMutual is committed to helping you secure your future.
Taxes
C+
How did Oklahoma earn the grade of C+? We examined the state taxes based on how age friendly they are. Oklahoma has a state sales tax of 4.50%. Of particular interest is that Oklahoma does not have taxes on social security. There are no estate taxes. There are no taxes imposed on inheritance. Oklahoma has an effective property tax rate of 0.89%. Weighing these taxes and other taxes most likely to impact the aging population is how Oklahoma earned its state tax grade of C+.
Learn more about taxes in Oklahoma