1 review
2.5 out of 5 stars
based on 2 ratings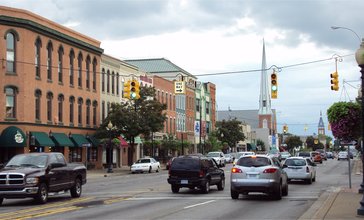 Monroe is a city in the U.S. state of Michigan located on the western shore of Lake Erie. The population was 20,733 at the 2010 census. It is the largest city and county seat of Monroe County. The city is bordered on the south by Monroe Charter Township, but both are politically independent. The city is located approximately 14 mi (23 km) north of Toledo, Ohio and 25 mi (40 km) south of Detroit. The United States Census Bureau lists Monroe as the core city in the Monroe Metropolitan Area, which had a population of 152,021 in 2010. Monroe is officially part of the Detroit-Ann Arbor-Flint CSA. The city is sometimes unofficially included as a northerly extension of the Toledo Metropolitan Area. When first settled by European Americans in 1784 shortly after the American Revolutionary War, this was still part of British territory and their Province of Quebec. French Canadians were early settlers here. The area later became part of the United States and Michigan territory, after the US and Britain settled the northern boundary with Canada. The US took control of Fort Detroit, which it briefly lost during the War of 1812. It is remembered for the Battle of Frenchtown during the War of 1812. It was named after the war for President James Monroe. Monroe was platted in 1817. This was the childhood residence of George Armstrong Custer and other members of his family, including his brother Boston Custer and wife Elizabeth Bacon. The city has numerous historic museums and landmarks, and is committed to their preservation. Since the mid-20th century, Monroe has been the site of the La-Z-Boy world headquarters. The population has declined slightly since its peak in 1970.
Managed by the Age Friendly Foundation
Community engagement, excellent senior centers, many non-profits serving seniors, community college offers reduced rates for seniors.
Senior Living Communities
Explore Home Care Options Near You
Find a Financial Professional Near You
Taxes