Mineral Wells

Mineral Wells
Texas
1 review
3.5 out of 5 stars
based on 1 rating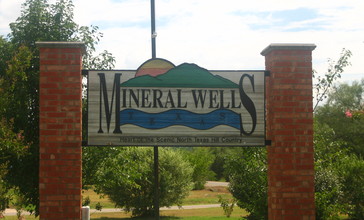 Mineral Wells is a city in Palo Pinto and Parker counties in the U.S. state of Texas. The population was 16,788 at the 2010 census (14,644 in Palo Pinto and 2144 in Parker). The city is named for mineral springs in the area, which were highly popular in the early 1900s. Mineral Wells is most famous for its Baker Hotel. In 1919, Mineral Wells hosted the spring training camp for the Chicago White Sox, the year of the famous "Black Sox" scandal involving "Shoeless" Joe Jackson. Mineral Wells also hosted spring training for the Cincinnati Reds and St. Louis Cardinals in the 1910s and early 1920s. The baseball field was located in the center of town where a shopping center now sits. In 1952, Mineral Wells was the host of the Republican state convention in which delegates divided between presidential candidates Dwight D. Eisenhower and Robert A. Taft. Though state chairman Orville Bullington of Wichita Falls led the Taft forces, the convention vote ultimately went 33-5 in favor of Eisenhower, who was thereafter nominated and elected. Also from Mineral Wells is Astronaut Millie Hughes-Fulford, who graduated from Mineral Wells High School in 1962. Dr. Hughes-Fulford flew aboard STS-40 Spacelab Life Sciences (SLS 1) in June 1991 as a Mission Specialist conducting medical experiments, logging over 3.2 million miles in 146 orbit.
Managed by the Age Friendly Foundation
Mineral wells has multiple nursing and assisted living facilities. There is also a disability friendly public transportation service that is free for senior citizens.
Senior Living Communities
Explore Home Care Options Near You
Find a Financial Professional Near You
Taxes