0 reviews
3 out of 5 stars
based on 0 ratings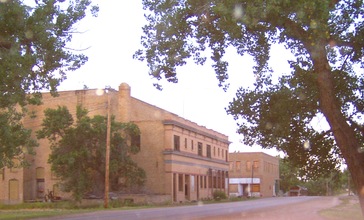 Marmarth ( MAR-məth) is the largest city in Slope County in the U.S. State of North Dakota with a population of 143 as of 2014. It is situated in the southwestern part of Slope County, along the Bowman County-limits, in the southwestern part of North Dakota, just seven miles east of the state-border to Montana. Marmarth was founded as a railroad town along the Milwaukee Road from Seattle, WA to Chicago, IL, in order to develop a town for homesteaders. By its founding, the town population was over 5,000 people - mostly rail workers and cattle ranchers. Despite a population boom caused by the opening of the Little Beaver Dome oil field in 1936, the town population declined during most of the 21st century and had a population of only 143 in 2014. There is one restaurant and one bar still located in Marmarth in 2013. The town is recognized for various historical events, including Native-American Lakota history, the discovery of the Dakota fossil and various other dinosaur skeletons, the attack on James L. Fisk by Sitting Bull, and several visits by former president Theodore Roosevelt. Roosevelt visited Marmarth on several occasions and killed both his first buffalo and his first grizzly bear by the Little Missouri River in Marmarth. The old ranch house on Hay Creek in which Roosevelt stayed during his visits are still standing. Another visited attraction in town is the "Woman in Stone", which is a 50-foot rock depicting the face and hairline of a woman. The town is at the southern tip of Theodore Roosevelt National Park and the Little Missouri National Grassland, and is also the closest city to Big Gumbo, a 20,000 acre federally owned public wilderness area administrated by the Bureau of Land Management. Several movies and TV shows have been filmed in the Theodore Roosevelt National Park, including the Wooly Boys, History Hogs and The Indomitable Teddy Roosevelt, all which were filmed in neighboring Billings County immediately north of town.
Managed by the Age Friendly Foundation
Explore Home Care Options Near You
Consider the benefits of an in-home caregiver. Care can range from 1 hour a day, to a few hours a week, to full time. Connect to a trusted provider today.
Find a Financial Professional Near You
With 9,000 financial professionals available across the nation and 4,500 on MassMutual.com, MassMutual is committed to helping you secure your future.
Taxes
C+
How did North Dakota earn the grade of C+? We examined the state taxes based on how age friendly they are. North Dakota has a state sales tax of 5.00%. Of particular interest is that North Dakota does have taxes on social security. There are no estate taxes. There are no taxes imposed on inheritance. North Dakota has an effective property tax rate of 1.05%. Weighing these taxes and other taxes most likely to impact the aging population is how North Dakota earned its state tax grade of C+.
Learn more about taxes in North Dakota