1 review
4.5 out of 5 stars
based on 1 rating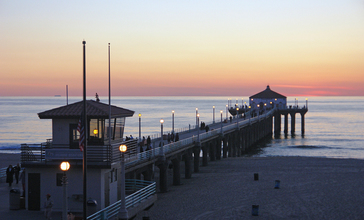 Manhattan Beach is a city in southwestern Los Angeles County, California, United States, on the Pacific coast south of El Segundo, and north of Hermosa Beach. Manhattan Beach is one of the three Beach Cities that make up the South Bay. Mira Costa High School in Manhattan Beach is ranked in the top 1% of high schools nationally. In 2016, Forbes ranked Manhattan Beach at #74 on its list of America's most expensive zip codes with a median home price of $2,815,327. According to a May 18, 2017 Property Shark study the City of Manhattan Beach 90266 zip code ranked as the 32nd most expensive zip code in the United States. According to a December 2017 Property Shark study the City of Manhattan Beach had the highest median price per square foot for residential properties ($943 per foot) of all 88 cities in L.A. County. Malibu had the second highest median price per foot at $933 per foot and Beverly Hills was third at $839 per foot.
Managed by the Age Friendly Foundation
What makes this place age friendly is the way we have a good majority of transportation and traffic throughout the city. This city is a major city in the suburbs of Los Angeles Downtown. Its one of the biggest cities in the beach city area. There are many working business and schools around the area which is modernly developed. I wouldn't say the place is age unfriendly. The place is very outgoing, mature, and age friendly indeed. Its beautiful and perfect for a person of any age.
Senior Living Communities
Explore Home Care Options Near You
Find a Financial Professional Near You
Taxes