0 reviews
3 out of 5 stars
based on 0 ratings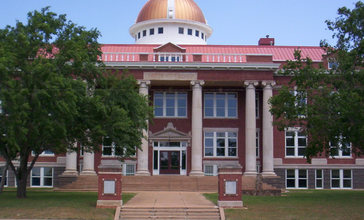 The city of Lawton is the county seat of Comanche County, in the State of Oklahoma. Located in southwestern Oklahoma, about 87 mi (140 km) southwest of Oklahoma City, it is the principal city of the Lawton, Oklahoma Metropolitan Statistical Area. According to the 2010 census, Lawton's population was 96,867, making it the fifth-largest city in the state. Built on former reservation lands of Kiowa, Comanche, and Apache Indians, Lawton was founded on August 6, 1901, and was named after Major General Henry Ware Lawton, a Civil War Medal of Honor recipient killed in action in the Philippine–American War. Lawton's landscape is typical of the Great Plains, with flat topography and gently rolling hills, while the area north of the city is marked by the Wichita Mountains. The city's proximity to Fort Sill Military Reservation gave Lawton economic and population stability throughout the 20th century. Although Lawton's economy is still largely dependent on Fort Sill, it has also grown to encompass manufacturing, higher education, health care, and retail. The city's government is run by a council-manager government consisting of a city manager and a city council headed by a mayor. Interstate 44 and three major United States highways serve the city, while Lawton-Fort Sill Regional Airport connects Lawton by air. Recreation can be found at the city's many parks, lakes, museums, and festivals. Notable residents of the city include many musical and literary artists, as well as several professional athletes.
Managed by the Age Friendly Foundation
Explore Home Care Options Near You
Consider the benefits of an in-home caregiver. Care can range from 1 hour a day, to a few hours a week, to full time. Connect to a trusted provider today.
Find a Financial Professional Near You
With 9,000 financial professionals available across the nation and 4,500 on MassMutual.com, MassMutual is committed to helping you secure your future.
Taxes
C+
How did Oklahoma earn the grade of C+? We examined the state taxes based on how age friendly they are. Oklahoma has a state sales tax of 4.50%. Of particular interest is that Oklahoma does not have taxes on social security. There are no estate taxes. There are no taxes imposed on inheritance. Oklahoma has an effective property tax rate of 0.89%. Weighing these taxes and other taxes most likely to impact the aging population is how Oklahoma earned its state tax grade of C+.
Learn more about taxes in Oklahoma