1 review
3.5 out of 5 stars
based on 1 rating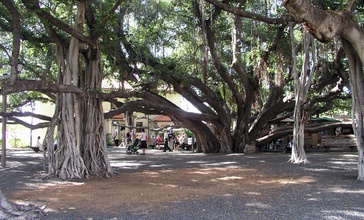 Lāhainā is the largest census-designated place (CDP) in West Maui, Maui County, Hawaii, United States, and includes the Ka'anapali and Kapalua beach resorts. As of the 2010 census, the CDP had a resident population of 11,704. Lahaina encompasses the coast along Hawaii Route 30 from a tunnel at the south end, through Olowalu, and to the CDP of Napili-Honokowai to the north. During the tourist season, the population can swell to nearly 40,000 people. There are many different climates in the different districts of Lahaina. The historic district is the driest and calmest and hosts the small boat harbor. Kaanapali is north of a wind line and has double the annual rainfall and frequent breezes. The Kapalua and Napili areas have almost four times the annual rainfall compared to the historic district of Lahaina. The historic district has preserved 60 historic sites within a small area and they are managed by the Lahaina Restoration. Lahaina was the capital of the Kingdom of Hawaii from 1820 to 1845, when the capital was moved back to Honolulu. In the 19th century, Lahaina was the center of the global whaling industry, with many sailing ships anchoring at its waterfront; today pleasure craft make their home there. Lahaina's Front Street has been ranked one of the "Top Ten Greatest Streets" by the American Planning Association. Lahaina's popularity as a tropical getaway has made its real estate some of the most expensive in Hawaii; many luxury homes and condos are sold for more than $2 million there.
Managed by the Age Friendly Foundation
People are friendly and have sometime for bonding
Explore Home Care Options Near You
Consider the benefits of an in-home caregiver. Care can range from 1 hour a day, to a few hours a week, to full time. Connect to a trusted provider today.
Find a Financial Professional Near You
With 9,000 financial professionals available across the nation and 4,500 on MassMutual.com, MassMutual is committed to helping you secure your future.
Taxes
B
How did Hawaii earn the grade of B? We examined the state taxes based on how age friendly they are. Hawaii has a state sales tax of 4.00%. Of particular interest is that Hawaii does not have taxes on social security. There are estate taxes. There are no taxes imposed on inheritance. Hawaii has an effective property tax rate of 0.27%. Weighing these taxes and other taxes most likely to impact the aging population is how Hawaii earned its state tax grade of B.
Learn more about taxes in Hawaii