0 reviews
3 out of 5 stars
based on 0 ratings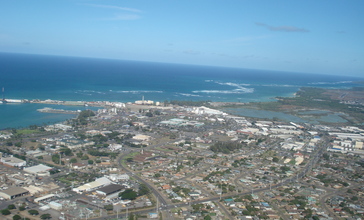 Kahului is a census-designated place (CDP) on the island of Maui in the U.S. state of Hawaii. It hosts Maui's main airport (Kahului Airport), deep-draft harbor, light industrial areas, and commercial shopping centers. The population was 26,337 at the 2010 census. Kahului is part of the Kahului-Wailuku-Lahaina Metropolitan Statistical Area which includes nearby Wailuku and the town and former whaling village of Lahaina. The retail center for Maui residents, Kahului has several malls and major stores (including department stores in the Queen Kaahumanu Center); other significant groupings of stores are in Lāhainā such as the Lahaina Cannery Mall, the Happy Valley area of Wailuku, Maui Market Place and Maui Mall, which are both also located in Kahului; and The Shops at Wailea in Wailea. Kahului is not generally considered a tourist destination. It does feature the Alexander & Baldwin Sugar Museum, Kanaha Pond State Wildlife Sanctuary, Kanaha Beach County Park, and the Maui Arts and Cultural Center. Kahului is served by Kahului Airport, located outside the CDP.
Managed by the Age Friendly Foundation
Explore Home Care Options Near You
Consider the benefits of an in-home caregiver. Care can range from 1 hour a day, to a few hours a week, to full time. Connect to a trusted provider today.
Find a Financial Professional Near You
With 9,000 financial professionals available across the nation and 4,500 on MassMutual.com, MassMutual is committed to helping you secure your future.
Taxes
B
How did Hawaii earn the grade of B? We examined the state taxes based on how age friendly they are. Hawaii has a state sales tax of 4.00%. Of particular interest is that Hawaii does not have taxes on social security. There are estate taxes. There are no taxes imposed on inheritance. Hawaii has an effective property tax rate of 0.27%. Weighing these taxes and other taxes most likely to impact the aging population is how Hawaii earned its state tax grade of B.
Learn more about taxes in Hawaii