4 reviews
3.5 out of 5 stars
based on 5 ratings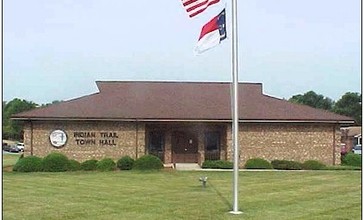 Indian Trail is a suburban town in Union County, North Carolina, United States.
Founded on March 12, 1861, the town holds a history of traders traveling along the "Indian Trail," which ran from Petersburg, Virginia, to the Waxhaw Indians, and gold mining. Indian Trail was first a farming community; however, German and Scot-Irish settlers began to move into the area due to its geographical location. In 1874, the Seaboard Coast Line Railroad was built between the cities Charlotte, North Carolina and Monroe, North Carolina.
The railroad, which runs through the town, brought prosperity to the area. Indian Trail was incorporated as a town in 1907, with established city limits based upon a one-half mile radius from the intersection of Indian Trail Road and the Seaboard Railroad. Indian Trail has grown rapidly in the 21st Century: a 2011 CNN article stated that Indian Trail's census count jumped from 1,942 in 1990 to 33,518 in 2010. Every Fourth of July the town holds an annual parade which is one of the biggest parades in the Charlotte metropolitan area.
Managed by the Age Friendly Foundation
I live in Indian Trail, I do not live in a senior community I am only 51 I have been married for five years in March
Many people speak to you and care about the community
I used a saying it's seem life began again when I turned 50. It's nice to know aging look upon as simply maturing.
Well from what I've seen so far the community I've been in and live is age friendly, all the businesses I've encountered are mixed with different age groups, the Librarians are elderly and very professional people
Senior Living Communities
Explore Home Care Options Near You
Find a Financial Professional Near You
Taxes