1 review
1.5 out of 5 stars
based on 1 rating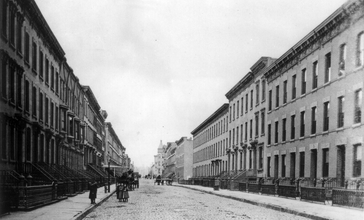 Hoboken ( HOH-boh-kən; Unami: Hupokàn) is a city in Hudson County, New Jersey, United States. As of the 2010 United States Census, the city's population was 50,005, having grown by 11,428 (+29.6%) from 38,577 counted in the 2000 Census, which had in turn increased by 5,180 (+15.5%) from the 33,397 in the 1990 Census. Hoboken is part of the New York metropolitan area and is the site of Hoboken Terminal, a major transportation hub for the tri-state region. Hoboken was first settled as part of the Pavonia, New Netherland colony in the 17th century. During the early 19th century the city was developed by Colonel John Stevens, first as a resort and later as a residential neighborhood. Originally part of Bergen Township and later North Bergen Township, it became a separate township in 1849 and was incorporated as a city in 1855. Hoboken is the location of the first recorded game of baseball and of the Stevens Institute of Technology, one of the oldest technological universities in the United States. Located on the Hudson Waterfront, the city was an integral part of the Port of New York and New Jersey and home to major industries for most of the 20th century. It is also well known for being the birthplace and hometown of American singer Frank Sinatra, one of the most popular and most influential musical artists of the 20th century, and there are parks and streets located in the city that are named for him. The character of the city has changed from a blue collar town to one of upscale shops and condominiums.On October 29, 2012, Hoboken was devastated by the storm surge and high winds associated with Hurricane Sandy, leaving 1,700 homes flooded and causing $100 million in damage after the storm "filled up Hoboken like a bathtub". In June 2014, the United States Department of Housing and Urban Development allocated $230 million to Hoboken as part of its Rebuild by Design initiative, adding levees, parks, green roofs, retention basins and other infrastructure to help the low-lying riverfront city protect itself from ordinary flooding and build a network of features to help Hoboken survive storms that arrive once every 500 years.
Managed by the Age Friendly Foundation

City does not abide by American with disabilities act. Bike and razors speed and weave on side walks creating treacherous conditions. There is zero enforcement as the few who vote belong to a narrow demographic and as "friends of" they have a sense of entitlement. Taxes are geared to subsidize the life styles of the most affluent. The broad demographic of the original community has been systematically eliminated.
Senior Living Communities
Explore Home Care Options Near You
Find a Financial Professional Near You
Taxes