0 reviews
4 out of 5 stars
based on 0 ratings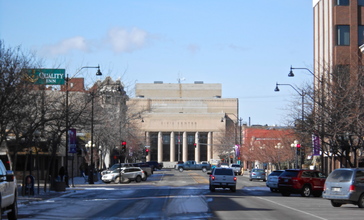 Great Falls is a town in and the county seat of Cascade County, Montana, United States. The 2017 census estimate put the population at 58,638. The population was 58,505 at the 2010 census. It is the principal city of the Great Falls, Montana Metropolitan Statistical Area, which encompasses all of Cascade County and has a population of 82,278. Great Falls was the largest city in Montana from 1950 to 1970, when Billings surpassed it. Great Falls remained the second largest city in Montana until 2000, when it was passed by Missoula. Since then Great Falls has been the third largest city in the state. Great Falls takes its name from the series of five waterfalls in close proximity along the upper Missouri River basin that the Lewis and Clark Expedition had to portage around over a ten-mile stretch; the effort required 31 days of arduous labor during the westward leg of their 1805–06 exploration of the Louisiana Purchase and to the Pacific Northwest Coast of the Oregon Country. Each falls sports a hydroelectric dam today, hence Great Falls is nicknamed "the Electric City". Currently there are two undeveloped parts of their portage route; these are included within the Great Falls Portage, a National Historic Landmark. The city is home to the C. M. Russell Museum Complex, the University of Great Falls, Great Falls College Montana State University, Giant Springs, the Roe River (claimed to be the world's shortest river), the Montana School for the Deaf and the Blind, the Great Falls Voyagers minor league baseball (formerly known as the Great Falls White Sox and before that as the Dodgers and Giants respectively) team, and Malmstrom Air Force Base. The local newspaper is the Great Falls Tribune. A Coldwell Banker Home Price Comparison Index listed Great Falls as the most affordable area of 348 markets in the US, Canada, and Puerto Rico.
Managed by the Age Friendly Foundation
Explore Home Care Options Near You
Consider the benefits of an in-home caregiver. Care can range from 1 hour a day, to a few hours a week, to full time. Connect to a trusted provider today.
Find a Financial Professional Near You
With 9,000 financial professionals available across the nation and 4,500 on MassMutual.com, MassMutual is committed to helping you secure your future.
Taxes
C
How did Montana earn the grade of C? We examined the state taxes based on how age friendly they are. Montana has a state sales tax of 0.00%. Of particular interest is that Montana does have taxes on social security. There are no estate taxes. There are no taxes imposed on inheritance. Montana has an effective property tax rate of 0.85%. Weighing these taxes and other taxes most likely to impact the aging population is how Montana earned its state tax grade of C.
Learn more about taxes in Montana