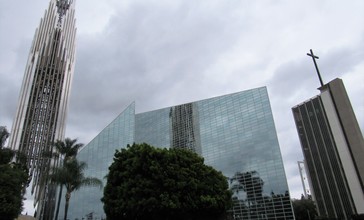 Garden Grove is a city in northern Orange County, California, United States, located 34 miles (55 km) south of the city of Los Angeles.
The population was 170,883 at the 2010 United States Census. State Route 22, also known as the Garden Grove Freeway, passes through the city in an east-west direction. The western portion of the city is known as West Garden Grove.
Geography
According to the United States Census Bureau, the city has a total area of 46.5 km2 (18.0 sq mi) 0.10% of which is water. West Garden Grove is west of Beach Boulevard.
Education
The Garden Grove Unified School District serves most of the city, as well as the Westminster School District and the Orange Unified School District, which serves portions in Garden Grove. King of Kings Lutheran School is a Christian school (3K-8th grade) of the Wisconsin Evangelical Lutheran Synod (WELS) in Garden Grove.
Arts and culture
Garden Grove is home to two stage theaters, the Gem Theater and the Festival Amphitheater. The Festival Amphitheater hosts Shakespeare Orange County, which presents an annual Shakespeare Festival each summer. Both venues are owned by the City of Garden Grove, but operated by outside entities.
The Gem Theater is currently operated by Damien Lorton and Nicole Cassesso of 'One More Productions'. The Festival Amphitheater is managed by Thomas Bradac, the producing artistic director of Shakespeare Orange County.
The Garden Grove Playhouse used to be an active theatre, now closed down. It was operated by a non-profit group of the same name.
The song "Garden Grove" by Sublime details taking a trip to Garden Grove.
Emergency services
Fire protection in Garden Grove is provided by the Garden Grove Fire Department with ambulance transport by Care Ambulance Service. The Garden Grove Police Department provides law enforcement with mutual aid assistance offered at times by the Anaheim Police Department's helicopter, and the Orange County Sheriff's Department Air Unit.
Managed by the Age Friendly Foundation
I am moving to this area on 4/15/19, I am unfamiliar with the neighborhood.
Senior Living Communities
Explore Home Care Options Near You
Find a Financial Professional Near You
Taxes