2 reviews
3 out of 5 stars
based on 2 ratings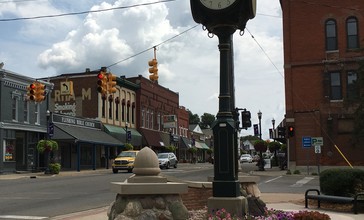 Flushing is a city in Genesee County in the U.S. state of Michigan. The population was 8,389 at the 2010 census. Flushing is considered a suburb of Flint. It is situated within the survey area of Flushing Charter Township, but is administratively autonomous. Flushing originated as a mill town in the min-1830s. Its location along the Flint River, the county's largest river, was a decisive factor in its settlement. Water power potential was a significant determinant for the selection of the settlement areas throughout the nineteenth century. In addition to its water power, the area around Flushing was also well suited to agricultural pursuits. The name Dover originally was selected for the new village until it was discovered that the name already was in use in Lenawee County Michigan. Charles Seymour, Sr., former resident of Flushing, Long Island, subsequently names the new community after the village in New York State.
Managed by the Age Friendly Foundation
Very quiet community, low or ext to none crime rate.
unfriendly, very difficult to find jobs
Senior Living Communities
Explore Home Care Options Near You
Find a Financial Professional Near You
Taxes