1 review
3.5 out of 5 stars
based on 1 rating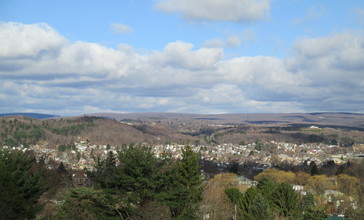 Clearfield is a borough and second most populous community in Clearfield County, Pennsylvania, United States, behind DuBois. Clearfield is also the county seat of Clearfield County. As of the 2010 census the population was 6,215 people. The borough is part of the DuBois, PA Micropolitan Statistical Area, as well as the larger State College-DuBois, PA Combined Statistical Area. The settled area surrounding the borough consists of the nearby census-designated places of Hyde and Plymptonville, which combined with Clearfield have a population of approximately 8,595 people.
Managed by the Age Friendly Foundation
Clearfield is a small community nestled next to the Susquehanna River in central Pa. It has become a. a haven for the elderly. More and more nursing homes, self care homes and elderly friendly homes are being built. The Area of Agency of Aging is very active in providing activities, housing, meals daily. There is also home care agencies to take care of the elderly in their homes. Transportation is. available to pick up and take homeMeals on wheels provide at least one visit to home and provides a hot meal daily. If families are in need of help in caring for their elderly it is only a phone calll away. There are activities for the elderly to participate in.so, our community is elderly is age friendlyAll one has to do is look around and find things to do.
Senior Living Communities
Explore Home Care Options Near You
Find a Financial Professional Near You
Taxes