Circleville

Circleville
Ohio
1 review
3.5 out of 5 stars
based on 2 ratings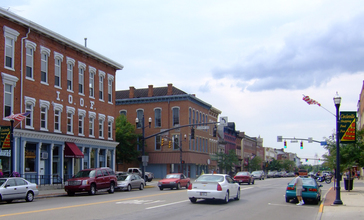 Not to be confused with Centerville, Ohio. Circleville is a city in and the county seat of Pickaway County, Ohio, United States, along the Scioto River. The population was 13,314 at the 2010 census. The city's name is derived from its original layout after 1810 within the 1,100 ft (340 m) diameter of a circle of a Hopewell tradition earthwork dating to the early centuries of the Common Era. The county courthouse was built in the center of the innermost circle. By the late 1830s residents had tired of this design and gained authorization from the state legislature to change the layout to a standard grid, which was accomplished by the mid-1850s. All traces of the Hopewell earthwork were destroyed here, although hundreds of other monuments may be found in the Ohio Valley.
Managed by the Age Friendly Foundation
Hillcrest community is small and we are mostly a 60 year of age.The neighbors kinda look out for each other.If some one has not seen you moving around there calling to see whats the matter.There is really no grocery stores in our neighborhood.
Senior Living Communities
Explore Home Care Options Near You
Find a Financial Professional Near You
Taxes