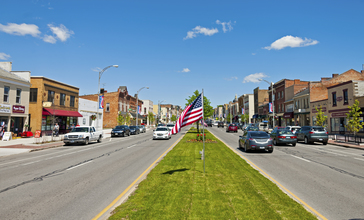 Canandaigua (Uta'naráhkhwa' in Tuscarora) is a city in Ontario County, New York, United States. The population was 10,545 at the 2010 census. It is the county seat of Ontario County; some administrative offices are at the county complex in the adjacent town of Hopewell. The name Canandaigua is derived from the Seneca name of its historic village here, spelled variously Kanandarque, Ganandogan, Ga-nun-da-gwa, or Konondaigua, which was established long before any European Americans came to the area. In a modern transcription, the historic village is rendered as tganǫdæ:gwęh, which means "the chosen spot", or "at the chosen town". The city lies within the Town of Canandaigua. The City of Canandaigua is on the northern end of Canandaigua Lake, 24 miles (39 km) southeast of Rochester and 58 miles (93 km) west of Syracuse. Parts of six neighboring towns also share the Canandaigua mailing address and 14424 ZIP code.
Managed by the Age Friendly Foundation
transportation, community engagement
There are several senior citizen facilities. Also, bus transportation for most. These facilities offer much recreation for those who are able. Occupational therapy with assistance, movies, etc. for others as well. A wonderful library is available.
Senior Living Communities
Explore Home Care Options Near You
Find a Financial Professional Near You
Taxes