3 reviews
3 out of 5 stars
based on 3 ratings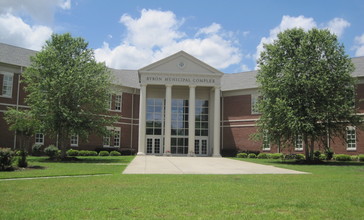 Byron is a city located primarily in Peach County, Georgia, United States. A small portion of the city extends into Houston County. The population was 4,512 at the 2010 census, up from 2,887 in 2000. The city is in the Macon metropolitan area. Byron was home to the Middle Georgia Raceway, an auto racetrack that hosted NASCAR races and the filming of TV commercials and a feature movie. From July 3–5, 1970, in a field next to the raceway, the Atlanta International Pop Festival was held, which was the largest gathering in Georgia history until the 1996 Olympics in Atlanta. On September 15, 2012, an official Georgia Historical Society marker was placed near the raceway site to commemorate the festival.
Managed by the Age Friendly Foundation
very well managed modern mobile home park for seniors. Lot rent very reasonable.
Small community with a lot of elderly people who have lived here many years and family as well. Every one knows neighbors and are helpful in many ways.
Good schools, pretty friendly with lots of stores, hotels and restaurants and lots of stores
Senior Living Communities
Explore Home Care Options Near You
Find a Financial Professional Near You
Taxes