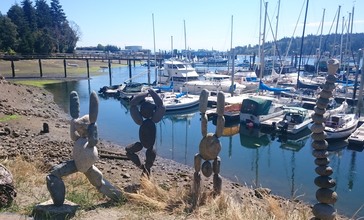 Bainbridge Island is a city in Kitsap County, Washington, United States, and is coextensive with the eponymous island in Puget Sound. The population was 23,025 at the 2010 census, making Bainbridge Island the second largest city in Kitsap County. In July 2005, CNN/Money and Money magazine named Bainbridge Island the second-best place to live in the United States. In August 2013, Bainbridge Island was recognized by Google with an eCity Award. This award recognizes the strongest online business community in each state. The local newspapers are the weekly Bainbridge Island Review and the Bainbridge Islander.
Managed by the Age Friendly Foundation
The island is very age friendly as most of the current population are retired. What is not so age friendly is the rental and low income housing for senior citizens. The island has been completely taken over by the upper, upper class, resulting in sky-rocketing property values, staggering rental rates. This coupled with the AIRBNB frenzy has completely obliterated affordable housing.for single senior citizens.
This is close knit community with very active Senior Center.
Like so many areas there are many baby boomers. The number of seniors has increased because there are more townhouses and condos being constructed. The problems for seniors is that they usually have to travel to Seattle, WA or Silverdale, WA if treatment by a specialist is required. The availability of transportation varies depending on neighborhood. Although BI is no considered rural, this is not an Uber of Lyft community. Busses run but some neighborhoods due not have good service. The people of BI are caring and take pride in making his Island liveable and caring for all.
Once was great; not so presently. City is over doing everything, no reasonableness, just spending and developing. Go somewhere else, not worth the investment here any longer. Taxing the seniors right out of their homes.
Senior Living Communities
Explore Home Care Options Near You
Find a Financial Professional Near You
Taxes