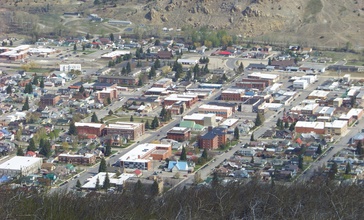 Anaconda, county seat of Deer Lodge County, which has a consolidated city-county government, is located in southwestern Montana of the United States. Located at the foot of the Anaconda Range (known locally as the "Pintlers"), the Continental Divide passes within 8 mi (13 km) south of the community. As of the 2010 census the population of the consolidated city-county was 9,298, with a per capita personal income of $20,462 and a median household income of $34,716. It had earlier peaks of population in 1930 and 1980, based on the mining industry. It is still the ninth most populous city in Montana. Central Anaconda is 5,335 ft (1,626 m) above sea level, and is surrounded by the communities of Opportunity and West Valley. The county area is 741 square miles (1,920 km2), characterized by densely timbered forestlands, lakes, mountains and recreation grounds. The county has common borders with Beaverhead, Butte-Silver Bow, Granite, Jefferson and Powell counties.
Managed by the Age Friendly Foundation
Explore Home Care Options Near You
Consider the benefits of an in-home caregiver. Care can range from 1 hour a day, to a few hours a week, to full time. Connect to a trusted provider today.
Find a Financial Professional Near You
With 9,000 financial professionals available across the nation and 4,500 on MassMutual.com, MassMutual is committed to helping you secure your future.
Taxes
C
How did Montana earn the grade of C? We examined the state taxes based on how age friendly they are. Montana has a state sales tax of 0.00%. Of particular interest is that Montana does have taxes on social security. There are no estate taxes. There are no taxes imposed on inheritance. Montana has an effective property tax rate of 0.85%. Weighing these taxes and other taxes most likely to impact the aging population is how Montana earned its state tax grade of C.
Learn more about taxes in Montana