2 reviews
3.5 out of 5 stars
based on 2 ratings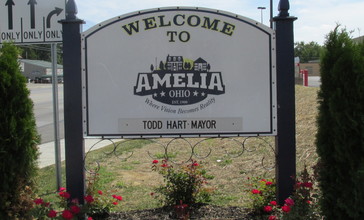 Amelia is an unincorporated community and former village in Clermont County, Ohio, United States.

The population was 4,801 at the 2010 census. Amelia incorporated in 1900. In November 2019, residents voted to dissolve the village over the imposition of a local income tax.
Geography
Amelia is located at 39°1′45″N 84°13′16″W (39.029123, -84.221111).
According to the United States Census Bureau, the village had a total area of 1.79 square miles (4.64 km2), all land.

Education
Amelia has a public library, a branch of the Clermont County Public Library.
Dissolution
In 2008, Amelia Village Council proposed a one-percent income tax to cover maintenance of Ohio State Route 125 within the village. In response to the proposal, Amelia Residents for Fiscal Responsibility gathered a petition to dissolve the village into Pierce and Batavia townships. The Clermont County Board of Elections initially rejected the petition after invalidating many of the signatures, but the group succeeded in adding the initiative to a May 5, 2009, special election. Amelia survived the election by a margin of 865 to 401.
On February 5, 2018, the council unanimously adopted the proposed one-percent income tax in an emergency ordinance, without the usual three readings, to meet a deadline imposed by the Regional Income Tax Authority. The tax went into effect on July 1, 2018, making Amelia the last village in Clermont County to impose an income tax after cuts to the state's local government fund and one of more than 600 cities and villages in Ohio that tax income. Former councilmember Renee Gerber subsequently led a petition drive for dissolution. A June 29 council meeting became heated over the tax and dissolution campaign.
Managed by the Age Friendly Foundation
Community services, and transportation, senior Services has a lot of interesting activities for the elderly.
Senior Living Communities
Explore Home Care Options Near You
Find a Financial Professional Near You
Taxes