1 review
4.5 out of 5 stars
based on 1 ratings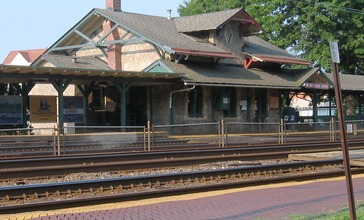 Wynnewood is a suburban unincorporated community, west of Philadelphia, that straddles Lower Merion Township, Montgomery County and Haverford Township, Delaware County, Pennsylvania, United States. It was named in 1691 for Dr. Thomas Wynne, William Penn's physician and the first Speaker of the Pennsylvania General Assembly. Lower Merion Township is the fifth-most-affluent town in the United States. Wynnewood is one of many neighborhoods on the historic Pennsylvania Main Line, and is the home of institutions such as Lankenau Hospital, St. Charles Borromeo Seminary, Palmer Theological Seminary, and Friends' Central School.
Managed by the Age Friendly Foundation
Wynnewood, PA, along the northwest border of Philadelphia is one of the age friendliest places on earth. In general, it offers a wide variety of housing options for all income levels with a wide variety of community organizations, including but not limited to religious institutions. Within the area are numerous eateries of all types, from fast food to gourmet food and everything in between, coffee houses, cafés, bistros, and restaurants, of every ethnicity, for families and individuals young and old. Every type of food is available from its supermarkets, gourmet and specialty food stores, and ethnic groceries. Health clubs, parks, and playgrounds are everywhere for people old and young to exercise, play, or just relax. Many places are open late or even 24 hours. The local health care includes numerous hospitals, clinics, physicians, dentists, optometrists, and other providers plus emergency services including police, fire, and ambulance with a wide variety of choices from among the finest health care institutions and providers in the world. It offers first rate education to people of all ages and educational levels and needs. For children, it has a excellent public school system. For adults, if has plenty of higher education, including every kind of academic (including world class institutions such as the University of Pennsylvania), professional (including many law schools, medical schools, dental schools, engineering schools, and business schools), and vocational training imaginable. Available transportation includes bus and train public transportation, private transportation, an excellent road system, and several major highways, both east-west and north-south. Nearby are several airports including a major international airport. Cultural and entertainment options include museums, zoos, music venues, movie theaters, and playhouses.
Senior Living Communities
Explore Home Care Options Near You
Find a Financial Professional Near You
Taxes