1 review
2 out of 5 stars
based on 3 ratings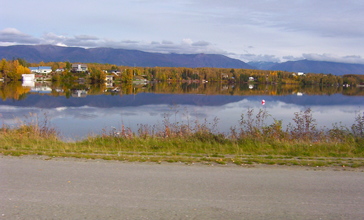 Wasilla is a city in Matanuska-Susitna Borough, United States and the sixth-largest city in Alaska. It is located on the northern point of Cook Inlet in the Matanuska-Susitna Valley of the southcentral part of the state. The city's population was 7,831 at the 2010 census. Estimates in 2013 put the population at roughly 8,621. Wasilla is the largest city in the borough and a part of the Anchorage metropolitan area, which had an estimated population of 396,142 in 2013. Established at the intersection of the Alaska Railroad and Old Carle Wagon Road, the city prospered at the expense of the nearby mining town of Knik. Historically entrepreneurial, the economic base shifted in the 1970s from small-scale agriculture and recreation to support for workers employed in Anchorage or on Alaska's North Slope oilfields and related infrastructure. The George Parks Highway turned the town into a commuter suburb of Anchorage. Several state and federal agencies have offices in Wasilla, including the Alaska Departments of Environmental Conservation, Labor and Divisions of Public Assistance, Social Services. Wasilla gained international attention when Sarah Palin, who served as Mayor of Wasilla before her election as Governor of Alaska, was chosen by John McCain as his running mate for Vice President of the United States in the 2008 United States presidential election. Wasilla is named after Chief Wasilla, a local Dena'ina chief. "Wasilla" is the anglicized spelling of the chief's Russian-given name, Васи́лий Vasilij, which corresponds to the English name Basil.
Managed by the Age Friendly Foundation
There are a lot of services for the elderly community as the importance of respect and support for the Elders is of utmost importance in Alaska.
Explore Home Care Options Near You
Consider the benefits of an in-home caregiver. Care can range from 1 hour a day, to a few hours a week, to full time. Connect to a trusted provider today.
Find a Financial Professional Near You
With 9,000 financial professionals available across the nation and 4,500 on MassMutual.com, MassMutual is committed to helping you secure your future.
Taxes
A
How did Alaska earn the grade of A? We examined the state taxes based on how age friendly they are. Alaska has a state sales tax of 0.00%. Of particular interest is that Alaska does not have taxes on social security. There are no estate taxes. There are no taxes imposed on inheritance. Alaska has an effective property tax rate of 1.19%. Weighing these taxes and other taxes most likely to impact the aging population is how Alaska earned its state tax grade of A.
Learn more about taxes in Alaska