26 reviews
4 out of 5 stars
based on 26 ratings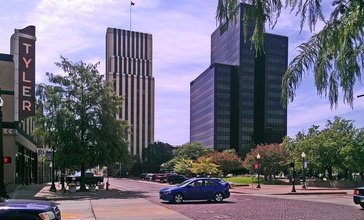 Tyler is a city located in central Smith County, Texas, United States. In terms of both population and land area, Tyler is by far the largest city in Smith County, of which it is the county seat, and has long been the region's major economic, educational, financial, medical, and cultural hub. The city is named for John Tyler, the tenth President of the United States. Tyler had a population of 96,900 in 2010, according to the United States Census Bureau, and Tyler's 2014 estimated population was 107,405. It is 100 miles (160 km) east-southeast of Dallas. Tyler is the principal city of the Tyler Metropolitan Statistical Area, which had a population of 209,714 in 2010, and is the regional center of the Tyler-Jacksonville combined statistical area, which had a population of 260,559 in 2010. Tyler is known as the "Rose Capital of America" (also the "Rose City" and the "Rose Capital of the World"), a nickname it earned from a long history of rose production, rose cultivation, and the large quantity of roses processed through the area. It is also known as the eye-patch capital of Texas, for its varied production styles of medical eye patches. Tyler is home to the largest rose garden in the United States, a 14-acre public garden complex that boasts over 38,000 rose bushes of at least 500 different varieties. The Tyler Rose Garden is also home to the annual Texas Rose Festival, attracting tourists by the thousands each year in mid-October. Tyler is also home to the Caldwell Zoo and Broadway Square Mall. In 1985, the international Adopt-a-Highway movement originated in Tyler when, after appeals by local TxDOT officials, the local Civitan chapter adopted a two-mile (3-km) stretch of U.S. Highway 69. Drivers and other motorists traveling on this segment of US-69 (between Tyler and nearby Lindale) will notice brown road signs that read, "First Adopt-A-Highway in the World." As a regional educational and technology center, Tyler is the host for more than 20,000 higher education students, a College of Engineering, and a University Health Science Center, two regional, billion-dollar hospital systems, and a variety of technology startups.
Managed by the Age Friendly Foundation
Theres several Colleges, & schools,(high school, middle and elementary) Water parks, retirement homes, rehabs, hospitals, bars, clubs of all sorts.
I have a great heart. Love working with the elderly
The people of Tyler are nice and friendly. They like to help each other out. I volunteer feeding the homeless and less fortunate, and see all kind of acts of kindness and generosity.
Good neighbors and many always eager to help!
Senior Living Communities
Explore Home Care Options Near You
Find a Financial Professional Near You
Taxes