12 reviews
3.5 out of 5 stars
based on 17 ratings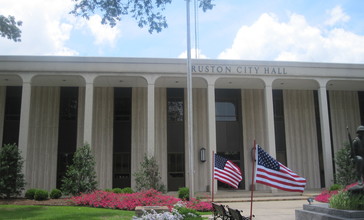 Ruston is a small city and the parish seat of Lincoln Parish, Louisiana, United States.
It is the largest city in the Eastern Ark-La-Tex region. As of the 2010 United States Census, the population was 21,859, reflecting an increase of 6.4 percent from the count of 20,546 counted in the 2000 Census. Ruston is near the eastern border of the Ark-La-Tex region and is the home of Louisiana Tech University. Its economy is therefore based on its college population. Ruston hosts the annual Peach Festival. Ruston is the principal city of the Ruston Micropolitan Statistical Area, which includes all of Lincoln parish.
Infrastructure
The 527th Engineer Battalion (Triple Alpha) ("Anything, Anytime, Anywhere") is headquartered in Ruston. This battalion is part of the 225th Engineer Brigade of the Louisiana National Guard.
Neighborhoods
Neighborhoods included Barnet Springs, Bocage Place, Downtown, Marcus Pointe, Melrose, Savannah Trace, French Quarter, Tanglewood, Wood Stone, and Roberts Extension.
Geography
According to the United States Census Bureau, the city has a total area of 18.2 square miles (47 km2), of which 18.1 square miles (47 km2) is land and 0.1 square miles (0.26 km2) (0.44%) is water.
Peach Festival
Each June, Ruston hosts its annual Peach Festival, sponsored by the Squire Creek Country Club. Until the 1940s, most area peach farming had been done on a small-scale family basis. In 1947, area peach growers organized the Louisiana Fruit Growers Association and held the first festival four years later on June 27–28, 1951. On that occasion, Justin Wilson, the popular south Louisiana chef and Cajun humorist entertained the audience at Howard Auditorium on the Louisiana Tech campus. Then State Senator Dudley J. LeBlanc of Abbeville in Vermilion Parish, the promoter of the patent medicine known as Hadacol, was invited to crown the first Peach Festival Queen, Ann Colvin of Bernice in Union Parish.
The festival sponsors races of 5K and 1M and a tennis tournament played on the Louisiana Tech courts.
Railroad Fest
Railroad Fest is an annual makers, music, and culture festival held in Downtown Ruston each April since 2017.[28] The Makers Fair is held at the Historic Ruston Fire Station, and live music is performed at the amphitheater at Railroad Park.
Managed by the Age Friendly Foundation
Ruston is a pretty, small town in North Louisiana. It has many positive aspects which make it child friendly. The crime rate is relatively low , so generally speaking, all, including children, can feel safe. There is some affordable housing, although I'm not certain about the cost of child care. There is a lovely wooded park with a lake, picnic area, and bike trails. Kids can also enjoy a trip to the zoo, which is just a short trip out of town. However, there isn't much offered in the way of museums or other cultural attractions.
The livability is great and very affordable, care is great as well and things you do as activities of daily living including school is near by and convenient
I believe my community is age friendly due to the fact that it gives relevance to education. The town is located to a college so there are a lot of young professionals to motivate school aged children to motivate them to create a goal and achieve it. The community comes together frequently to have functions for children. It is a quiet town.
I'm a very intelligent lady been on my jobfor20 years trying to do something else in my area. I work part time with 2 men caring for them on the weekends but I'm trying to go full time and give my other job up at foster Farms there in famerville la that I been on for 20 years that's why I'm trying to go full time with the caregiver job I already took the classes have my cpr took the classes been working 6years doing this job partime
This is a town that people who grew up in return after retirement
Senior Living Communities
Explore Home Care Options Near You
Find a Financial Professional Near You
Taxes