9 reviews
3.5 out of 5 stars
based on 15 ratings
Member of the World Health Organization Global Network of Age Friendly Cities and Communities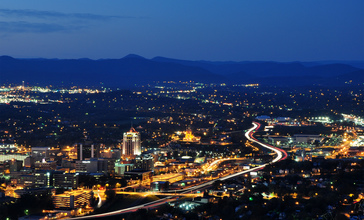 Roanoke is an independent city in the U.S. state of Virginia.
As of the 2010 census, the population was 97,032. It is located in the Roanoke Valley of the Roanoke Region of Virginia. Roanoke is the largest municipality in Southwest Virginia, and is the principal municipality of the Roanoke Metropolitan Statistical Area (MSA), which had a 2010 population of 308,707. It is composed of the independent cities of Roanoke and Salem, and Botetourt, Craig, Franklin, and Roanoke counties. Bisected by the Roanoke River, Roanoke is the commercial and cultural hub of much of Southwest Virginia and portions of Southern West Virginia.
Transportation
Airports
Main article: Roanoke-Blacksburg Regional Airport
Roanoke-Blacksburg Regional Airport terminal building
The Roanoke-Blacksburg Regional Airport is located in the northern part of the city and is the primary passenger and cargo airport for Southwest Virginia.
Rail
Roanoke is a major hub in Norfolk Southern's freight rail system. In 2006, the railroad announced plans to construct an intermodal rail yard in the community of Lafayette, Virginia of neighboring Montgomery County; however, opposition by local residents prompted Norfolk Southern to consider other potential sites. In 2007, the former Roanoke mayor David A. Bowers urged Roanoke to offer a site for the yard. Shortly thereafter, neighboring Salem proposed a site in an industrial area of the city. In 2008, Norfolk Southern determined that the Lafayette location was the only practical site. The Commonwealth of Virginia may also upgrade Norfolk Southern's rail line parallel to Interstate 81 from Roanoke through the Shenandoah Valley to encourage more freight to be shipped by rail.
Buses
The Valley Metro bus system serves the city of Roanoke and surrounding areas. Nearly all routes originate or terminate at the Campbell Court bus station in downtown Roanoke, which is also served by Greyhound. Valley Metro also offers bus service to Blacksburg, Christiansburg, Lynchburg and Virginia Tech via the Smart Way and Smart Way Connector services. In addition, several free shuttles connect local colleges to Downtown Roanoke. The Ferrum Express runs between Ferrum College in nearby Rocky Mount and downtown Roanoke, while the Hollins Express connects to Hollins University in Roanoke County.
Transportation demand management
Roanoke City is served by RIDE Solutions, a regional transportation demand management agency that provides carpool matching, bicycle advocacy, transit assistance and telework assistance to businesses and citizens in the region.
Managed by the Age Friendly Foundation
Alot of retirees work in our local grocerys, walk for exercise in our malls
The neighbors are nice and quiet. Neighborhood very quiet.
Community engagement, dog friendly, great working environment
Senior Living Communities
Explore Home Care Options Near You
Find a Financial Professional Near You
Taxes