1 review
4 out of 5 stars
based on 3 ratings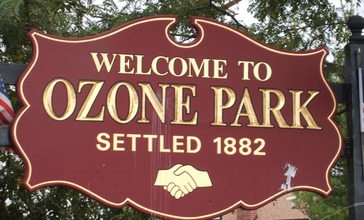 Ozone Park is a neighborhood located in the southwestern section of the borough of Queens, in New York City, New York, United States. It borders Woodhaven, Richmond Hill, Howard Beach, and City Line, Brooklyn. Different parts of the neighborhood are covered by Queens Community Board 9 and 10. The neighborhood is located in the Fifth Congressional District, and is represented by Democrat Gregory Meeks. The northern border is Atlantic Avenue; the southern border is South Conduit Avenue, and the eastern border is 108th Street. The western border is the county line with Brooklyn (mostly along Ruby and Drew Streets). It is the home of the Aqueduct Racetrack, a popular spot for Thoroughbred racing. The neighborhood is known for its large Italian-American population. The current ground level of Ozone Park is about four feet higher than the original ground level. Initially the avenues and cross streets were raised above ground level and then all of the basements were set on ground level and the land was back filled around the houses. The older houses that were at the original ground level now appear "sunken"; these can be observed on the south side of Sutter Avenue between 83rd and 85th streets.
Managed by the Age Friendly Foundation
In a 2 block radius of my apartment there are several age friendly men and women. A lot of them have caregivers that help them with every day living activities.
Senior Living Communities
Explore Home Care Options Near You
Find a Financial Professional Near You
Taxes