4 reviews
3 out of 5 stars
based on 4 ratings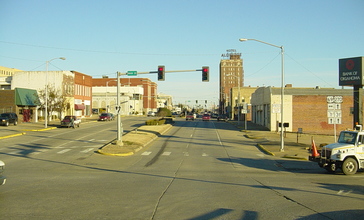 McAlester is a city in and county seat of Pittsburg County, Oklahoma, United States. The population was 18,363 at the 2010 census, a 3.4 percent increase from 17,783 at the 2000 census, making it the largest city in the Choctaw Nation of Oklahoma, followed by Durant. The town gets its name from James Jackson McAlester, an early white settler and businessman, who later became Lieutenant Governor of Oklahoma. Known as "J. J", McAlester married Rebecca Burney, the daughter of a full-blood Chickasaw family, which made him a citizen of the Chickasaw Nation.McAlester is the home of the Oklahoma State Penitentiary, site of an "inside the walls" prison rodeo from which ESPN's SportsCenter once broadcast. McAlester is home to many of the employees of the McAlester Army Ammunition Plant. This facility makes essentially all of the bombs used by the United States military. In 1998 McAlester became the home of the Defense Ammunition Center (DAC) which moved from Savanna, Illinois, and relocated as a tenant on McAlester Army Ammunition Plant.
Managed by the Age Friendly Foundation
Not really sure how to answer this.
I havent seen anyone being unfriendly to age
Alit of diversity and a college town
moderate rating, need more senior services and transportation options and retirement homes, not just nursing home/assisted living facilities combo
Explore Home Care Options Near You
Consider the benefits of an in-home caregiver. Care can range from 1 hour a day, to a few hours a week, to full time. Connect to a trusted provider today.
Find a Financial Professional Near You
With 9,000 financial professionals available across the nation and 4,500 on MassMutual.com, MassMutual is committed to helping you secure your future.
Taxes
C+
How did Oklahoma earn the grade of C+? We examined the state taxes based on how age friendly they are. Oklahoma has a state sales tax of 4.50%. Of particular interest is that Oklahoma does not have taxes on social security. There are no estate taxes. There are no taxes imposed on inheritance. Oklahoma has an effective property tax rate of 0.89%. Weighing these taxes and other taxes most likely to impact the aging population is how Oklahoma earned its state tax grade of C+.
Learn more about taxes in Oklahoma