8 reviews
4 out of 5 stars
based on 9 ratings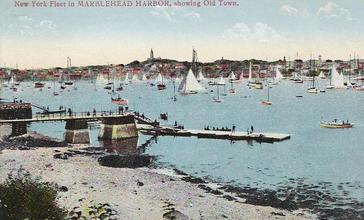 Marblehead is a coastal New England town in Essex County, Massachusetts. Its population was 19,808 at the 2010 census.It is home to the Marblehead Neck Wildlife Sanctuary, Crocker Park, Marblehead Light, Fort Sewall, Little Harbor and Devereux Beach. Archibald Willard's famous painting The Spirit of '76 currently resides in Abbot Hall. A town with roots in commercial fishing, whaling and yachting, Marblehead was a major shipyard and is often referred to as the birthplace of the American Navy, a title sometimes disputed with nearby Beverly. It is also the origin of Marine Corps Aviation. Three US Navy ships have been named USS Marblehead. A center of recreational boating, it is a popular sailing, kayaking and fishing destination. Several yacht clubs were established here in the late 19th century, which continue to be centers of sailing. One of the yacht clubs is called the Corinthian Yacht Club.
Managed by the Age Friendly Foundation
Everyone is respected and treated as an equal in all the business establishments. The education in this town is also one of the finest in the country.
Marblehead has a great community elderly center that provides activities for the elderly.
Good transportation. Active COA center

We have been lucky enough to live in a home we built 37 years ago. It is in the Devereux neighborhood. Our worst neighbors are the police. We have a small beautiful neighborhood, we all know each other and we are helpful but not intrusive. We belong to a wonderful church and have great friends. The only problem is our children have moved out of state and we often question should we move. We would love to do a house swap with someone living in western Ma or near Albany NY!!!!!
My neighborhood is Age unfriendly because I live in family housing. They move mature adults out of the neighborhood to elderly housing somewhere else in town.
Senior Living Communities
Explore Home Care Options Near You
Find a Financial Professional Near You
Taxes