10 reviews
3.5 out of 5 stars
based on 10 ratings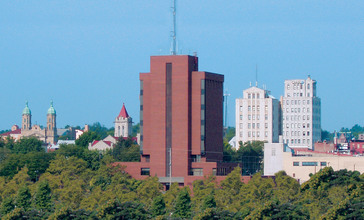 Mansfield is a city in and the county seat of Richland County, Ohio, United States. Located midway between Columbus and Cleveland via Interstate 71, it is part of Northeast Ohio and North-central Ohio regions in the western foothills of the Allegheny Plateau. The city lies approximately 65 miles (105 km) northeast of Columbus, 65 miles (105 km) southwest of Cleveland and 91 miles (146 km) southeast of Toledo. The city was founded in 1808 on a fork of the Mohican River in a hilly region surrounded by fertile farmlands, and became a manufacturing center owing to its location with numerous railroad lines. After the decline of heavy manufacturing, the city's economy has since diversified into a service economy, including retailing, education, and healthcare sectors. The 2010 Census showed that the city had a total population of 47,821, making it Ohio's nineteenth largest city. According to the 2010 Census, the Mansfield, OH Metropolitan Statistical Area (MSA) has a population of 124,475 residents, while the Mansfield–Ashland–Bucyrus, OH Combined Statistical Area (CSA) has 221,398 residents. Mansfield's official nickname is "The Fun Center of Ohio". It is the largest city in the "Mid-Ohio" region of the state, the north-central region which is generally considered to extend from Marion, Delaware, Knox, Morrow, Crawford, Ashland and Richland counties in the south, to the Firelands area south of Sandusky in the north. Mansfield is also known as the "Carousel Capital of Ohio," "Danger City," and "Racing Capital of Ohio". Anchored by the Richland Carousel District, downtown Mansfield has experienced growth in the arts and tourism in recent years. Recent concert events in the downtown Brickyard venue have drawn crowds numbering over 5,000 people. Mansfield, in partnership with local and national partners, is addressing blight and economic stagnation in the city center. The Carousel district recently welcomed its first craft brewer, The Phoenix Brewing Company, the first brewer in Mansfield since prohibition. The Renaissance Performing Arts Association at home in the historic Renaissance Theatre annually presents and produces Broadway-style productions, classical music, comedy, arts education programs, concerts, lectures, and family events to more than 50,000 people. The Renaissance Performing Arts is home of The Mansfield Symphony, renowned as one of the finest mid-size orchestras in the United States. Downtown is also home to two ballet companies, NEOS Ballet Theatre and Richland Academy Dance Ensemble who both perform and offer community dance opportunities in downtown. Mid-Ohio Opera offers performances of full opera and smaller concerts for downtown residents.
Managed by the Age Friendly Foundation
I feel my community is age friendly because in every way I feel welcome and not discriminated against because of my age. I volunteer in school, salvation army after school program and at the theater and am welcomed.
Several Nursing Facilities and Several retirees in town
Transportation, general livability.
Senior Living Communities
Explore Home Care Options Near You
Find a Financial Professional Near You
Taxes