3 reviews
4 out of 5 stars
based on 4 ratings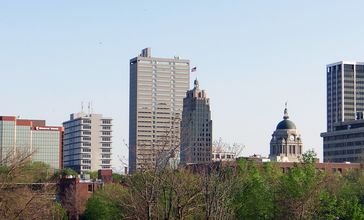 Fort Wayne is a city in the U.S. state of Indiana and the seat of Allen County, United States. Located in northeastern Indiana, the city is 18 miles (29 km) west of the Ohio border and 50 miles (80 km) south of the Michigan border. With an estimated population of 264,488 in 2016, it is the second-most populous city in Indiana after Indianapolis, and the 76th-most populous city in the United States. It is the principal city of the Fort Wayne metropolitan area, consisting of Allen, Wells, and Whitley counties, a combined population of 419,453 as of 2011. In addition to the three core counties, the combined statistical area (CSA) includes Adams, DeKalb, Huntington, Noble, and Steuben counties, with an estimated population of 615,077. Fort Wayne was built in 1794 by the United States Army under the direction of American Revolutionary War general Anthony Wayne, the last in a series of forts built near the Miami village of Kekionga. Named in Wayne's honor, the European-American settlement developed at the confluence of the St. Joseph, St. Marys, and Maumee rivers as a trading post for pioneers. The village was platted in 1823 and underwent tremendous growth after completion of the Wabash and Erie Canal and advent of the railroad. Once a booming manufacturing town located in what became known as the Rust Belt, Fort Wayne's economy in the 21st century is based upon distribution, transportation and logistics, healthcare, professional and business services, leisure and hospitality, and financial services. The city is a center for the defense industry which employs thousands. Fort Wayne was an All-America City Award recipient in 1982, 1998, and 2009. The city also received an Outstanding Achievement City Livability Award by the U.S. Conference of Mayors in 1999.
Managed by the Age Friendly Foundation
This area is a community of seniors who are mainly Caucasians. I am of mixed ethnic origin and in a marriage for eleven years that is also of mixed ethnic origin. It has taken almost five years to get a good relationship with neighbors.
I have worked near nursing homes for the past summer, so my experience is limited but from what I saw, I watched people who cared for the elderly and did everything that they could to help others. Also, they loved their jobs and loved taking care of others. I used somewhat age friendly because not everyone is included in that list, and some did not take care of the elderly well, and did not like their job.
Livabilty , cost of living, abundant housing Choices, aging and in home services, good senior care network
Senior Living Communities
Explore Home Care Options Near You
Find a Financial Professional Near You
Taxes