3 reviews
3.5 out of 5 stars
based on 3 ratings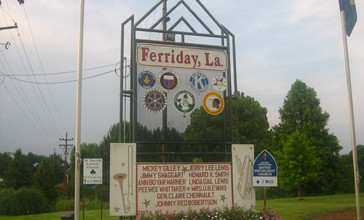 Ferriday is a town in Concordia Parish in northeastern Louisiana, United States. The population, which is three-fourths African American, was 3,511 at the 2010 census. Ferriday claims to have produced more famous people per square mile than any other American small town. This statement intrigued author Elaine Dundy who probed that phenomenon while profiling both celebrities and townsfolk in her book, Ferriday, Louisiana, published by E. P. Dutton in 1991. Ferriday played a role in the promotion of blues music through the Haney's Big House lounge in the African-American community. Almost every Delta Blues musician played at Haney's. The Delta Music Museum in the downtown historic district is open daily to visitors, many of whom come from out of state. It is located next to the restored Arcade Theater. The museum contains exhibits on Ferriday natives, some of whom were blues, rock, pop, and country musicians. Ferriday is represented by churches of several major denominations, including a large Pentecostal congregation south of town on Louisiana Highway 15, as well as Baptist, Assembly of God, Presbyterian, Methodist, and Catholic.
Managed by the Age Friendly Foundation
Friendly people always concern what go on in their community
This neighborhood is age friendly. No matter the activity or town functions that is being giving everybody comes together to make it a success.
Senior Living Communities
Explore Home Care Options Near You
Find a Financial Professional Near You
Taxes